Russia is proposing to build an electricity transmission line between its power system and that of Japan's, despite the fact that the two countries have technically been at war since August 1945.
Russia declared war on Japan six days before it surrendered in 14 August, and after overrunning the Japanese army in Manchuria, seized a number of islands between the Kamchatka peninsula and Hokkaido.
Japan has effectively frozen diplomatic relations with Russia since then, while it waits for its claims on the islands, called the South Kurils, to be arbitrated in some way.
Now there is finally a possibility of a diplomatic breakthrough, as preparations are being made for direct talks between Russian president Vladimir Putin and Japanese prime minister Shinzo Abe in Vladivostok in September.
One mutually beneficial project that would be made possible by detente would be a "power bridge" between Russia, with its abundance of hydrocarbon energy resources, and Japan, with its almost total lack of them.
The advantages of such a link were underscored by the Great East Japanese Earthquake of 2011 which caused the catastrophic shutdown of 54 reactors, including the partial implosion of four at Fukushima Daiichi, an event that was ranked as "level seven", alongside Chernobyl.
This forced Japan to increase its fossil fuel imports by 25%, which accounted for almost one third of Japan's total overseas spending. Together, the combination of higher imports and lower production in 2011 created a $32bn trade deficit, the country's first for 31 years.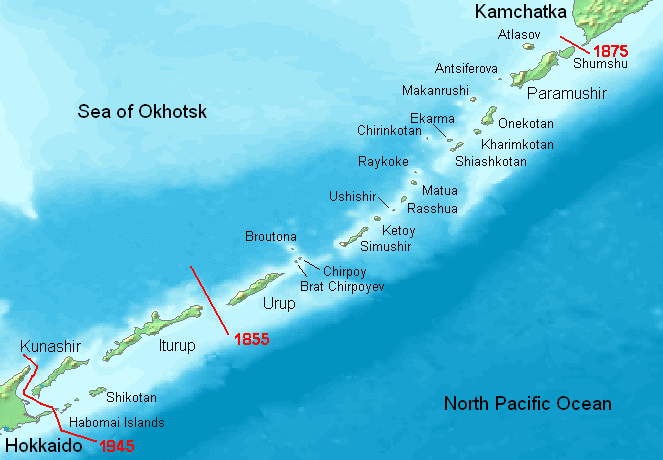 Russia has been moving south down the chain throughout the 20th century
The idea of an energy bridge stretches back to 2000, according to the official Russian Sputnik news agency.
The agency reported Alexander Krutikov, department head at the Ministry of Development of the Russian Far East, as saying: "The project of a power bridge to Japan, and its subsequent development into an 'energy ring', greatly interests our Japanese colleagues, and we intend to discuss this matter during the second Eastern Economic Forum."
As well at the 43km transmission cable beneath La Pérouse Straits, the Russia-Japan power bridge would involve renovating existing power plants and electrical grid infrastructure on Sakhalin Island and the construction of energy facilities.
The project is currently being negotiated by Russia's RusHydro and Japan's Mitsui industrial conglomerate. Tatiana Ganzhina, chief of RusHydro's press service, told Sputnik that the Russian side is waiting for its Japanese counterpart to provide technical specifications for the project which are required to evaluate the bridge's estimated cost and the time required to build it.
Ganzhina told Sputnik: "The Japanese side should provide us with information regarding possible routes for laying the underwater power cable, possible options for the construction of energy grid facilities and, most importantly, analysis of the electricity sales prospects in Japan. Also, in order for this project to be completed, Japanese legislation needs to be amended in order to make importing electricity in Japan legal."
Image: Bone of contention: the Kuril Islands (Wikipedia Commons)
Further Reading: