Singapore's Public Utilities Board (PUB) and Sembcorp Industries have begun assembling a 60 megawatt-peak (MWp) floating solar photovoltaic system on the Tengeh Reservoir.
Occupying an area equivalent to 45 football fields, it is one of the world's largest inland floating photovoltaic (PV) farms, they said, and is necessitated by the island's scarcity of available land.
Scheduled to start generating next year, the electricity will power PUB's water treatment plants, offsetting 7% of PUB's annual energy needs.
PUB said that equates to 32 kilotonnes of emissions, or 7,000 cars taken off the road.
Construction begins after environmental studies showed that floating solar panels "have minimal impact on the reservoir's water quality and biodiversity", PUB said.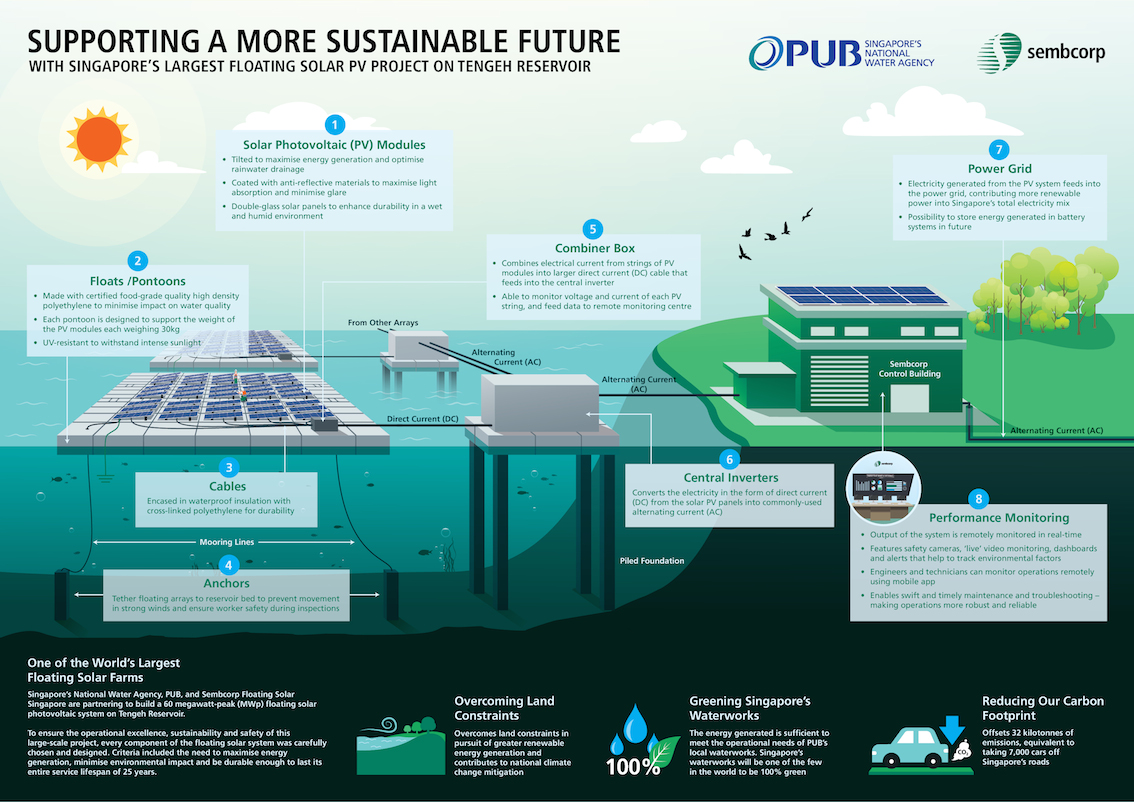 Infographic courtesy of PUB
The array is meant to last 25 years. It uses double-glass PV modules mounted on high-density polyethylene floats that are UV-resistant to prevent degradation from sunlight.
It will be monitored remotely by live video, while a dashboard sends alerts to a mobile app on wind speed, solar irradiation and ambient temperature to spot overheating and fire risks.
PUB chief executive Ng Joo Hee said: "With this floating solar power plant, which we believe to be one of the largest in the world, PUB takes a big step towards enduring energy sustainability in water treatment. Solar energy is plentiful, clean and green, and is key to reducing PUB's and also Singapore's carbon footprint."
Top image: The electricity will power PUB's water treatment plants, offsetting 7% of PUB's annual energy needs (Image courtesy of PUB)