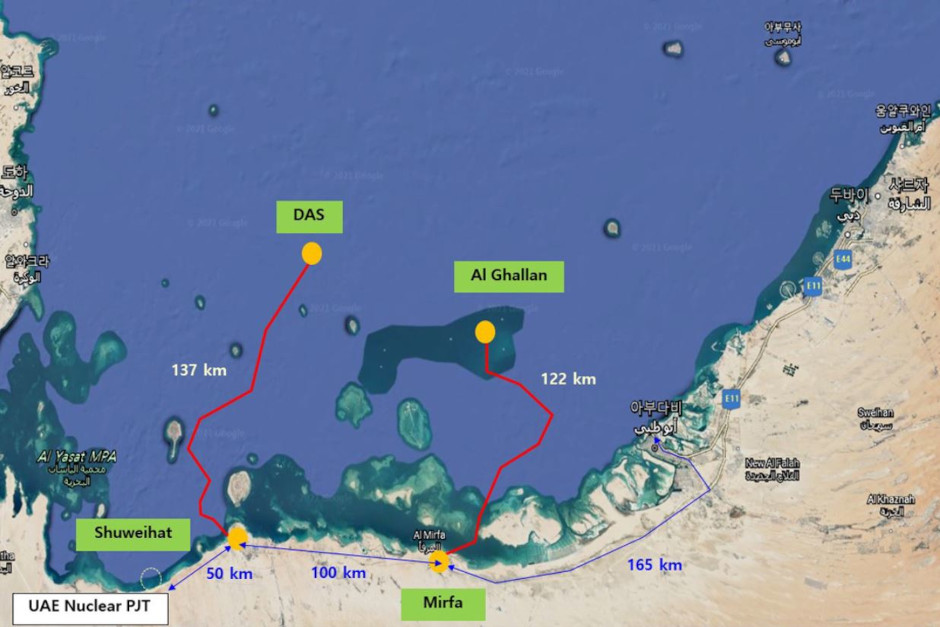 Abu Dhabi has reached a $3.8bn deal with a Japanese, French and Korean consortium to power offshore oil and gas operations from land through an underwater high voltage, direct current (HVDC) transmission system.
It has been called the first HVDC submarine transmission network in the Middle East.
Abu Dhabi National Oil Company (Adnoc) and Abu Dhabi National Energy Company (Taqa) want to replace gas-burning generators on offshore oil and gas production sites with what they called "more sustainable" power generated onshore.
They said it would cut carbon emitted by Adnoc's offshore operations by more than 30%.
The scheme is a public-private partnership. A consortium of Japan's Kyuden Group, French utility EDF, and Korea Electric Power Corporation (Kepco) – and including Adnoc and Taqa – will build, own and operate the transmission network for 35 years.
It's due to start transmitting in 2025.
A group of banks will lend $3bn to finance the project. They are Japan Bank for International Cooperation, the Export-Import Bank of Korea, Mizuho Bank, Sumitomo Mitsui Bank, BNP Paribas Fortis and Standard Chartered Bank. The South Korean Export-Import Bank will provide $1.2bn of the loan.
HVDC converts high-voltage alternate current (AC) power produced in a power plant into direct current (DC), transmitting it, and converting it back into AC. It allows transmission over longer distances with less power loss.
The contract to build the new network went to Korea's Samsung C&T Engineering & Construction Group, who has formed a consortium to do the work with Belgian contractor Jan de Nul. The value of the contract to Samsung C&T is $2.27bn.
Jan de Nul said it will be in charge of the design, installation, burial and protection of two cable clusters, nearly 1,000km in total length, from the islands of Al Ghallan and Das to onshore AC converter stations.
The official Korean Yonhap News Agency quoted a South Korean bank official as saying: "This project is a role model for the construction of the first HVDC submarine transmission network in the Middle East and North Africa through cooperation between state-owned power generation companies, construction companies and institutions."