A four-story apartment building has been erected in Berkeley, California in just four days using steel modules manufactured in China.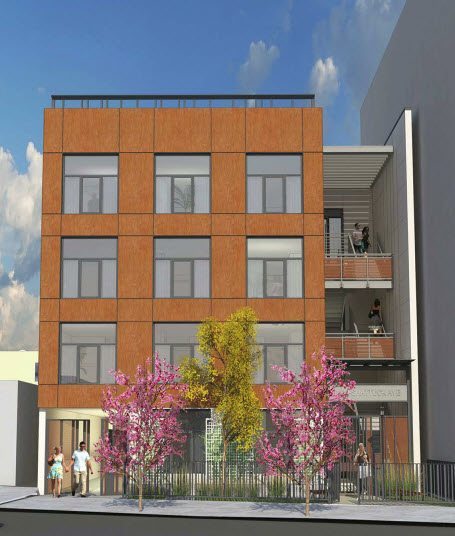 The building is squeezed into a narrow lot measuring just 5,200 square feet in area (Panoramic Interests)
Its developer claims it is the first such use of Chinese modules for building in the US, but said the approach did not save as much money as expected.
The 22-unit building will be leased to graduate students attending the University of California, Berkeley, in a deal that sees developer Patrick Kennedy's company provide maintenance and cleaning.
Completed at the end of July, the building is squeezed into a narrow lot measuring just 5,200 square feet at 2711 Shattuck Avenue, near the city's downtown.
Having arrived fitted out, the apartments will be open to students in time for the autumn semester.
In all, the project, took four months starting with site preparation and foundation laying.
Kennedy, whose company Panoramic Interests specialises in novel and infill developments, told local news site Berkeleyside that he'd have preferred to source the modules from domestic companies, but that their backlogs of orders were too great.
"This is the first steel modular project from China in America," Kennedy told Berkeleyside, adding that new tariffs on imported Chinese steel hadn't affected this project.
Kennedy has been working on the project, called Shattuck Studios, for some time. It was initially approved by the city in 2010 as a hotel, then re-approved in 2015 as studio apartments. In that guise, Kennedy leased the units to the university student housing.
He said the modules were shipped to Oakland then trucked to the site, noting that the US leg of the journey cost more than the voyage from Hong Kong.
Each module is a 310-square-foot studio apartments with a bathroom, pre-fitted with a kitchenette, a sofa that converts to a queen-size bed, flat-screen TVs and coffee makers.
As for the purported cost benefits of prefabrication, Kennedy said he might actually have saved money building conventionally.
"Sixty-five to seventy-five-percent of the construction costs are still incurred on the site. In addition to the usual trades, we have crane operators, flagmen, truckers and special inspectors," he told Berkeleyside.
"We are very happy with the quality of construction and the finished product – but we learned that smaller sites posed lots of difficulties – access, traffic management, proximity to neighbours."
"We might have saved some money building this conventionally, but we view this more as a research & development project – and in that capacity, it was very helpful and educating."
He said prefabrication would likely be better for larger projects.
Top image: Each module is a 310-square-foot studio apartment with a bathroom, pre-fitted with a kitchenette (Panoramic Interests)