America's first sustainable urban neighborhood, described as an "agrihood", can provide fresh, free produce to 2,000 residents within two square miles.
The Michigan Urban Farming Initiative (MUFI) in Detroit's lower North End has a two-acre urban garden, a 200-tree fruit orchard and a children's garden.
MUFI has teamed up with German chemical giant BASF and green firm Sustainable Brands to turn a vacant three-storey building across from its urban garden into a Community Resource Centre (CRC).
A healthy food café is also planned, located on vacant land next to the CRC.
The centre will offer educational programs, event and meeting space, and serve as the organisation's operational headquarters.
It will also house two commercial kitchens on the first floor that will service the café and allow for future production and packaging of valued goods.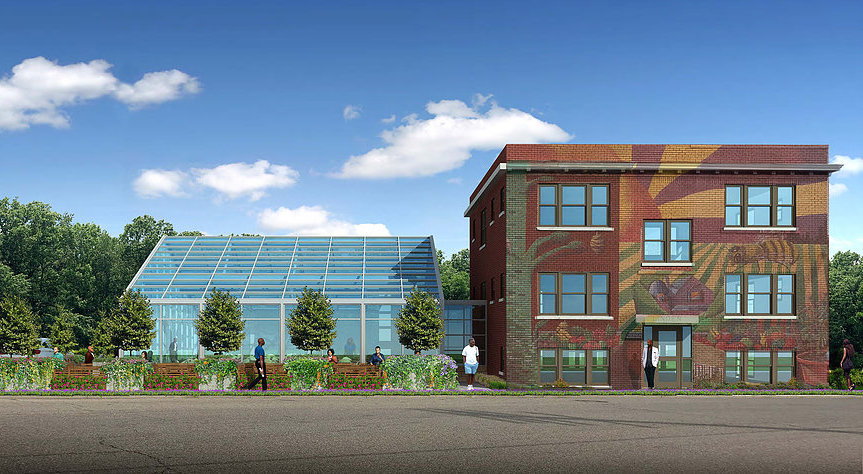 Tyson Gersh, co-founder of MUFI, said: "Over the last four years, we've grown from an urban garden that provides fresh produce for our residents to a diverse, agricultural campus that has helped sustain the neighborhood, attracted new residents and area investment."
"Through urban agriculture, MUFI aims to solve problems Detroit residents face such as nutritional illiteracy and food insecurity."
MUFI is also restoring a house bordering the farm. The home's basement will be converted into a water harvesting cistern that will automatically irrigate the garden.
Since its first growing season in 2012, MUFI has distributed more than 50,000 pounds of free produce.
Images via MUFI