A much discussed plan to build the world's longest subsea tunnel between Finland and Estonia took a new twist at the end of last week when Finnish businessmen Peter Vesterbaka, one of the creators of the Angry Birds game app, put forward a plan to build the scheme with money from private investors and Chinese tunnelling technology.
Vesterbaka told the business website Hufvudstadsbladet that the project could start next year be finished by 2024 with the help of Chinese tunnelling technologies.
"We do not see insuperable technical difficulties, and the project could be completed by the beginning of the 2020s, and not in the 2030s, as previously thought," he said.
He said his plan would require hiring 12 tunnel boring machines from China at a cost of €30m. He said: "China implements large infrastructure projects around the world, so it's no surprise that they are also interested in building the Helsinki-Tallinn tunnel."
The project would involve building two 17m diameter rail tunnels. This is a larger size than is needed – the Channel Tunnel, for example, is only 7.6m – but would future-proof the project, according to Vesterbaka. Â 
He said: "We want to demonstrate that Finland is connected with the rest of Europe. And the Helsinki airport will becomes accessible to the inhabitants of Tallinn."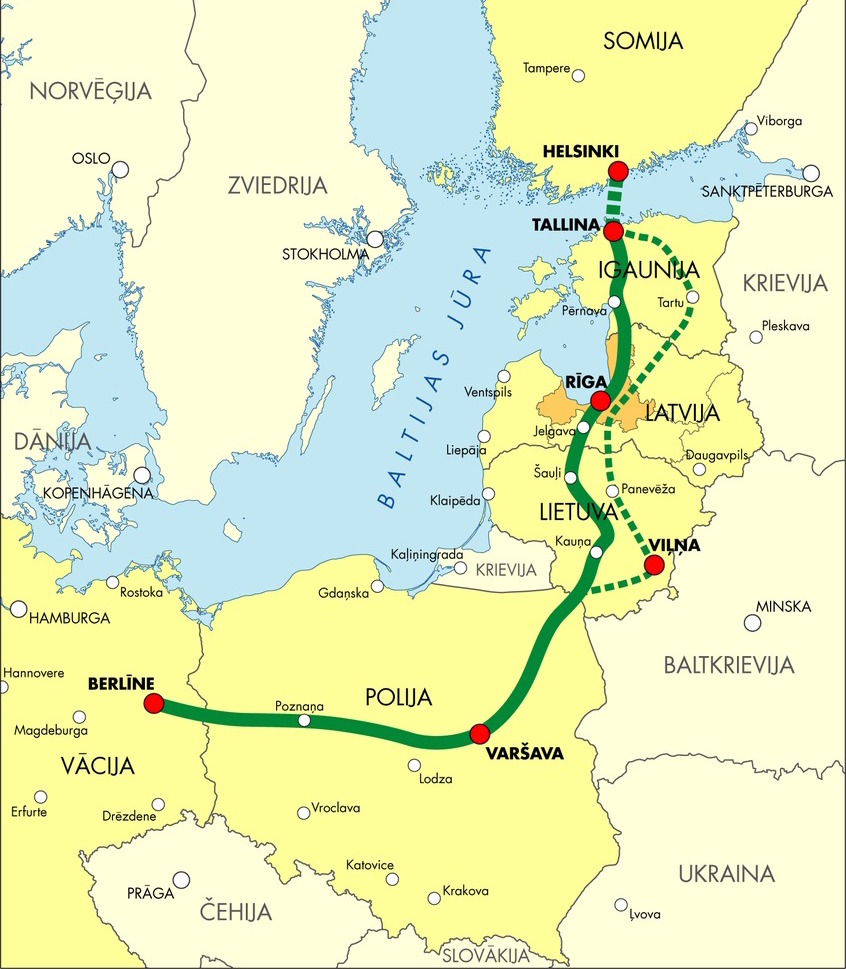 A map of the Baltic rail scheme. The final northern section is envisaged as a ferry link
The idea of a 92km tunnel between the two EU member states is presently the subject of two feasibility studies being carried out by Danish and Finnish engineers. The teams are expected to report to Helsinki city council and Finnish transport agency Liikennevirasto by the end of the year.
The tunnel would form the final stretch of the Rail Baltica project, which is intended to link Finland, Estonia, Latvia, Lithuania and Poland with a standard gauge rail line. At present, the Baltic States' physical infrastructure, including its broad gauge rail system, is orientated towards Russia. However, it has been assumed that the project would be built some time in the 2030s.
According to Estonian engineer Sweco, one of the firms studying the project's feasibility, the tunnel should be a public-private partnership with about half the money coming from Finnish and Estonian taxpayer and EU structural funds. The remainder would come from private investors.
If the tunnel did end up costing €13bn, the payback time would be around 37 years, with a ticket priced at €50.
Top image: Peter Vesterbaka (Creative Commons)
Further Reading: