23 April 2014
Arabtec Holding has dismissed reports that it is planning to pull out of its work on the the $123m Gazprom tower in St Petersburg as a result of the political stand-off over the Ukraine.
A spokesperson for the Dubai-based contractor said media speculation about such a move was baseless. He told Construction Week Online: "The project is well on its way as per the schedule agreed upon with Gazprom. Arabtec is proud of the strong relationship that it has built with Russian organisations, and the company aims to develop more partnerships and explore further opportunities in Russia."
Arabtec added that Russia presented a promising market for Arabtec's investments, and said the company would continue to strengthen its presence there.
Gazprom, the client for the job, is the largest extractor of natural gas in the world. It has become embroiled in the dispute with the Ukraine as the government of Russia has used it to apply economic pressure to the government of Ukraine.
Gazprom has been forced to suspend export of gas to the Ukraine twice before. London's Financial Times commented: "Gazprom knows a third shut-off could finally shred its reputation as a reliable supplier-and inject new vigour into the EU's attempts to reduce its dependence on Russian gas.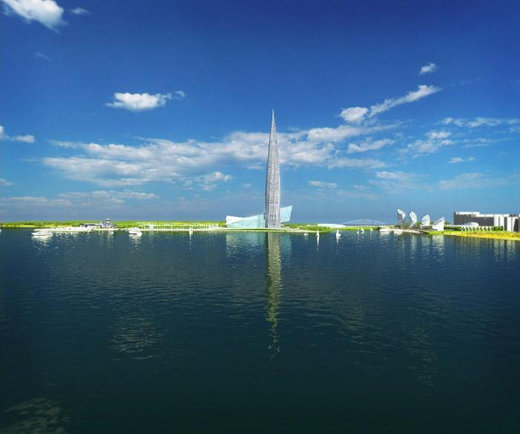 The client of the Gazprom tower has frequently become embroiled in Russian state politics over the past decade (RMJM)
That would hit the Russian state, which has 51 per cent of Gazprom's shares and relies on energy sales for half of state revenues, and shareholders, many of them foreign, who own the rest."
Arabtec announced the launch of its Russian construction arm in 2012 after the signing of a contract with Russian company Gazprom Neft for the development of the tower, which is also known as the Okhta Centre.
Designed by Scottish architect RMJM, it will house Gazprom's global headquarters. The final building is expected to measure 462m, making it Europe's tallest.