A French architect has won a prize for a futuristic proposal to rebuild the devastated Iraqi city of Mosul entirely by 3D printing robots fed material by drones.
Paris-based firm Vincent Callebaut Architectures says the approach would see 30 houses a day rebuilt in the city, up to three quarters of which was destroyed during a nine-month, street-by-street battle to dislodge the Islamic State terrorist group.
Some 53,000 homes are needed to rehouse the displaced population, and officials say a larger scale rebuilding will require about 10 years and cost $50bn.
The UN has said that £1bn is needed just to replace basic infrastructure, including the city's five bridges across the Tigris river, all of which were destroyed in the fighting.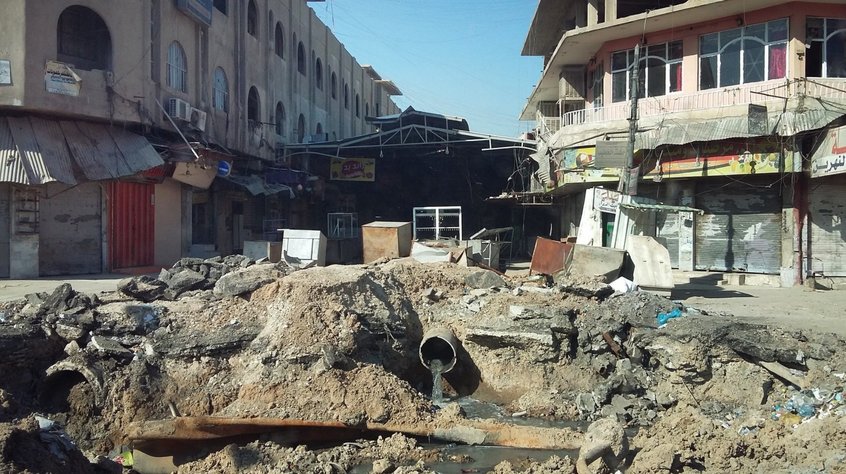 Damage to Mosul neighborhoods after the conflict (UNDP Iraq)
Vincent Callebaut's plan, which won the Rifat Chadirji Prize, centres on rebuilding these bridges, and then homes, with an unusual, printed building block, produced by printing robots and inspired by traditional Islamic architecture.
Each bridge, he said, "will resemble an artificial mountain generated by the repetition of one single basic module of a 3.6m cube".
The design is inspired by "muqarnas", the honeycomb pattern used in classical Islamic architecture. Each house would be built up from two, five or 10 of these modules.
The architect suggests that these could be built using five 3D printers in the form of articulated spiders. This, it says, would allow the construction of 30 houses a day, or nearly 55,000 units in five years. The print-bots would be supplied with raw material by drone, and the raw material itself would be recycled from the debris of the battle.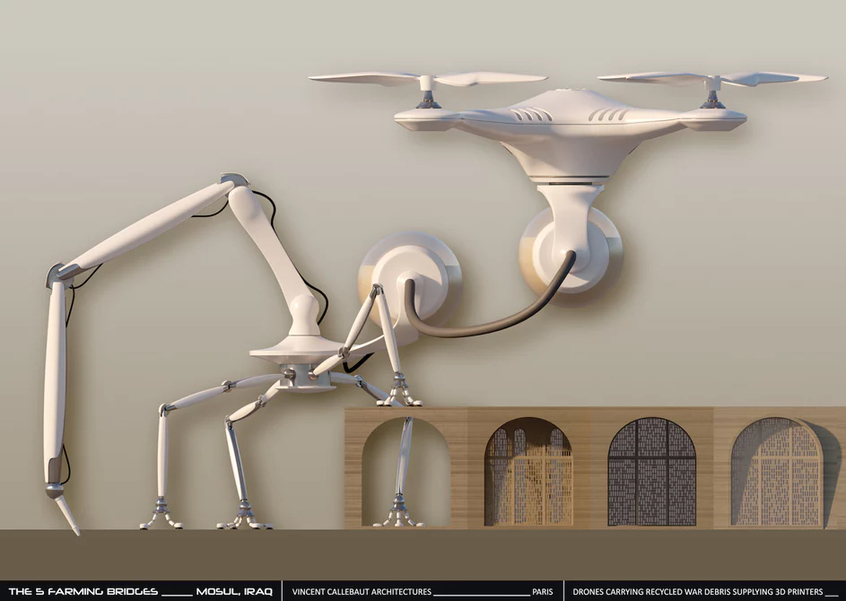 The building would be done by spider-bots and drones
As well as houses, the bridges would host urban farms and orchards irrigated by water lifted by Archimedes screws from the river below, and would be fertilised by composted waste from the houses. Â 
This was the winning idea from more than a shortlist of 50 entries for the competition, which was to devise a solution to Mosul's housing crisis. The prize is named after Iraq's most famous architect, now 90 years old, who developed a synthesis of traditional and modernist Iraqi architecture.
Top image: One of Vincent Callebaut Architecture's living bridges
Further Reading: