A European team has designed a 10km long circular runway with a 3.5km diameter to surround an airport terminal.
The "endless" runway would mean that an airport would only take up a third of space when compared to a traditional set up, with a hub airport being able to sit in the centre. However, construction costs would be around 1.5 times that of a conventional airport.
The circular runway would allow aircraft to take off and land independently of the wind direction, since there is always a point without crosswind on the circular runway. This would enable multiple aircraft to take off and land simultaneously, thereby increasing airport capacity.
Landing aircraft could also be routed away from residential areas because they are not dependent on a standard approach path.
Aerospace professionals from Germany, Holland, France, Spain and Poland have worked on the project, which has received funding from the EU.
The group say the "lack of capacity at airports is the major constraint to growth in air transport" and "unless a structural new approach is followed, the expected three-fold increase in air traffic is not realistic to achieve".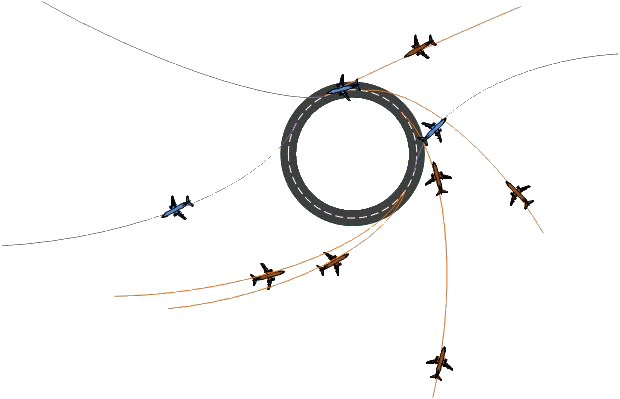 Henk Hesselink, senior research manager at the Netherlands aerospace centre, said: "Major challenges are the safety aspects. Up to now, we have taken safety as a basis for all our simulations and calculations.
"Most responses I receive however concern the safety. As NLR we always demand safety at the highest level and we need to take a step-by-step approach to keep ensuring that the operation remains safe."
"In follow on steps, with flight trials we will further investigate all possible safety aspects. Using flight trials, we will be able to control circumstances and further test all safety issues"
More information is available on the project here.
Images courtesy of Endless Runway