26 April 2013
Atkins has completed the masterplan for Dongyang, Zhejiang Province, one of the three woodcarving capitals of China.
The masterplan will create a cultural-commercial-tourist destination which reflects the local historic culture of woodcarving and houses artisans' workshops.
The 876,000-sq-m area is divided into three interlinked blocks hosting a museum, an exhibition and convention centre, a trading centre, a hotel, offices, apartments and a riverside park.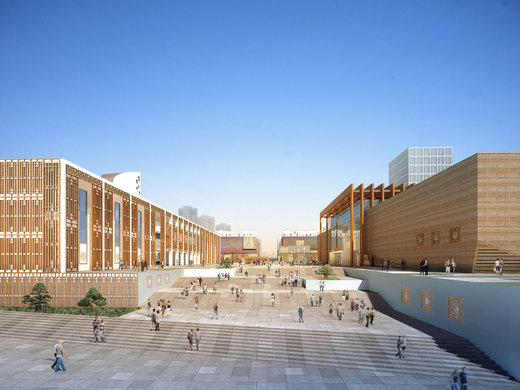 Dongyang has been a woodcarving centre since the Ming Dynasty in the 14th century. (Credit: Atkins)
Lea Xu, design director at Atkins' Shanghai office, said: "The clarity and simplicity of the overall layout and the refinement in architecture and space design reflect the subtlety of Chinese culture and make our design stand out."
The three towers comprise hotel and office accommodation and the trading centre hosts the woodcarving Masters' workshops, situated on the roof. The riverside park incorporates the Masters' clubs and outdoor exhibition space.
Dongyang has a population of over 800,000 and has been a famous centre of woodcarving since the Ming Dynasty (1368-1644).