14 March 2014
Atkins has won a contract as lead consultant and masterplanner for Aerospace City in Subang, Malaysia – which has hopes to be the aerospace hub of Asia.
The Malaysian government agency responsible for education and entrepreneurship, MARA, hopes to attract global aerospace engineering businesses to the region.
Atkins said the development will be designed as a "smart city, with cutting edge research and development facilities, integrated office suites, academic campuses, a convention centre and residential areas".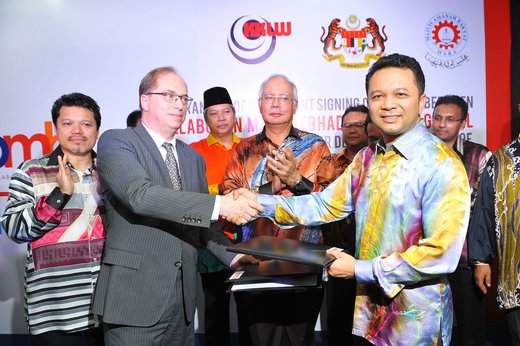 Atkins CEO for Asia Pacific, Chris Birdsong, with MARA Group CEO, Nazim Rahman (Atknis)
Chris Birdsong, Atkins' CEO for Asia Pacific, said the project is part of Malaysia's strategy to become a self-sufficient industrialised nation by 2020.
"Education plays a vital role to achieve the vision and the facility will directly benefit the local community," he said.
Rural and regional development minister, Datuk Seri Mohd Shafie Apdal, said that the development will draw interest from international aerospace industry players, making Malaysia the aerospace hub in Asia.
Malaysian prime minister Datuk Seri Mohd Najib Abdul Razak was on hand at the signing of the deal.