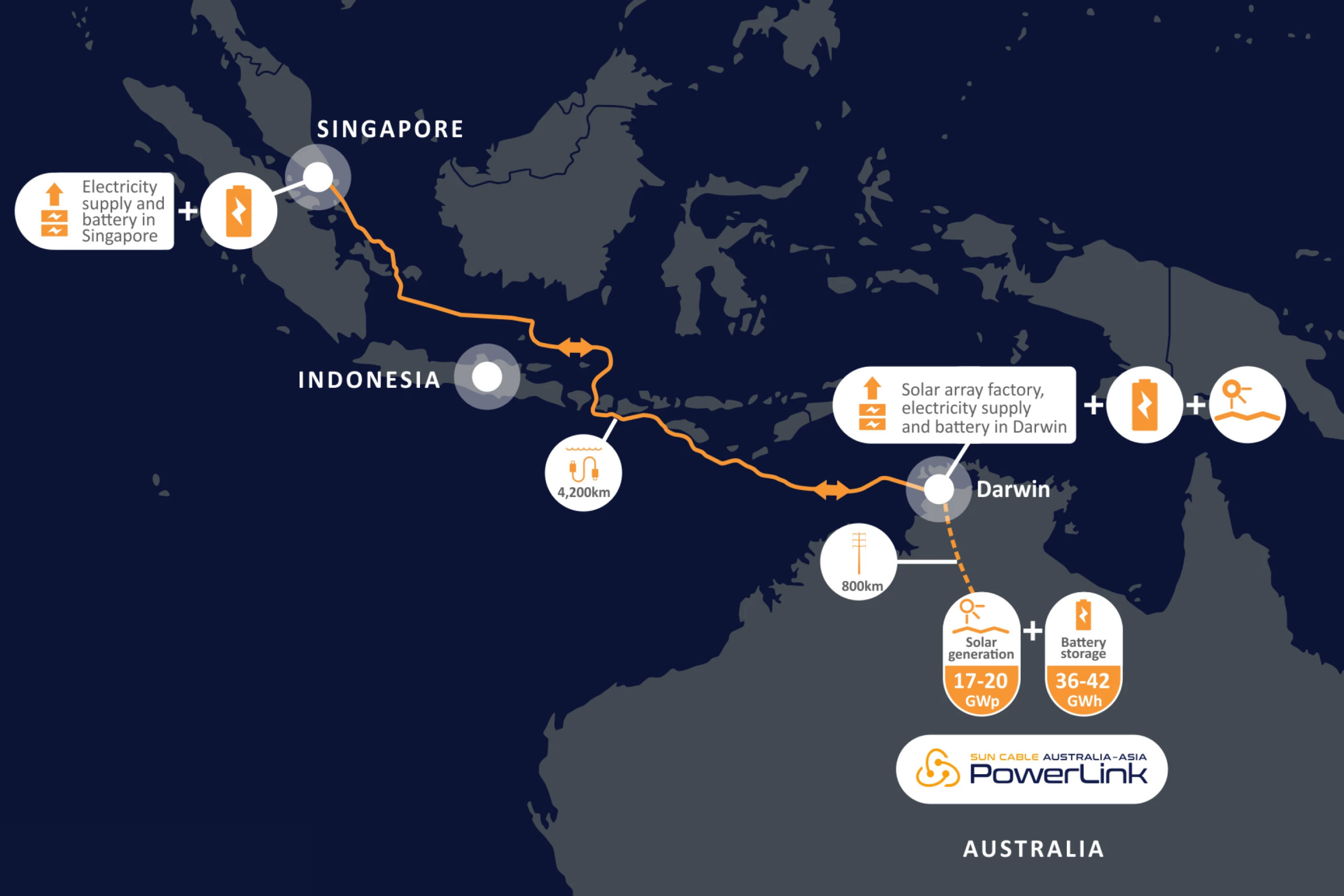 Singapore may be drawing up to 15% of its electricity from solar power generated in Australia by 2027, if a scheme by renewables specialist Sun Cable comes to fruition.
The company aims to build vast solar farms in Northern Australia, which it describes as "one of the most reliably sunny places on Earth". This power will then be supplied to Indonesia and Singapore by a 4,200km-long high voltage direct power cable.
The Australia֪–Asia PowerLink, as the project is called, is expected to cost more than US$22bn, making it the world's largest renewable energy infrastructure project by an order of magnitude.
It will involve installing 120 sq km of photovoltaic panels – the Powell Creek Solar Precinct – and vast battery storage facility in Australia and Singapore, as well as the HVDC cable and 800km of overhead lines between the town of Elliott and the city of Darwin in the Northern Territories.
This will allow Sun Cable to send up to 3.2GW of electricity north, enough to power 11.5 million homes.
The environmental benefit of the scheme is expected to be the equivalent of taking 2.5 million cars off the road. It will also help power Southeast Asia, where energy demand is growing at 6% a year.
At present, PowerLink has raised its series A funding and has been granted major project status by the federal and state governments. It has also completed a survey of 750km of the subsea route the cable will take.
Sun Cable was founded in Australia and Singapore in 2018 by energy entrepreneurs David Griffin, Mac Thompson and Fraser Thompson. The company says its employees are a team of "world-leading experts across a range of fields, including renewable power development, electrical, photovoltaics and civil engineering, HVDC, planning and approvals, international relations, economics and project management".