Business leaders in Bangladesh say their country is at a turning point thanks to a suite of Chinese assistance deals and infrastructure contracts signed last week that together are worth nearly $40bn.
Chinese President Xi Jinping's state visit to the south Asian country concluded Friday, 14 October with the signing of 27 financial assistance deals worth approximately $24bn.
On top of that, Bangladeshi and Chinese companies signed 13 joint venture contracts together worth some $13.6bn to upgrade infrastructure and boost trade between the two nations.
Altogether, the investments are equivalent to about 2.7% of Bangladesh's GDP.
The Bangladeshi business community hailed the deals as historic.
"The signing of the agreements indicates that the world now sees Bangladesh as the next rising tiger," Abdul Matlub Ahmad, president of the Federation of Bangladesh Chambers of Commerce, told local newspaper The Daily Star.
He added: "The Chinese government and private sector investors understand that Bangladesh is a lucrative place for investment, as the country has been witnessing more than 6% growth for several years now. The agreements are historic as Bangladesh has never seen such big investments and trade deals."
Humayun Rashid, acting president of Dhaka Chamber of Commerce and Industry, described the agreements as a turning point for Bangladesh.
"Our cost of doing business will come down significantly if the agreements on improving infrastructure are implemented," he told the Star. "We need infrastructure, power and higher export earnings for development of the country and China can help us attain those goals."
President Xi said Bangladesh was now considered a strategic partner.
Xi's visit to Dhaka, the first by a Chinese head of state in 30 years, was conducted during a stopover en route to a summit of the BRICS nations in Goa, India.
The deals reflect the strength of China's construction industry and its need to find foreign markets to absorb its surplus capital.
Among the agreements is a plan to strengthen Bangladesh's electricity grid. This will involve Chinese electrical engineer Tebian Electric Apparatus supplying $1.6bn of goods and services to Dhaka Power, and Jiangsu Etern, a private company based near Shanghai, which will provide $1.1bn of modern cabling.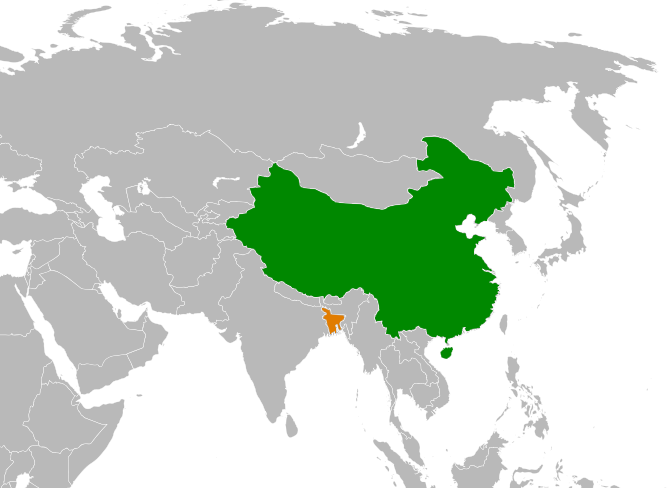 Bangladesh is one of China's near neighbours (Mangostar/Creative Commons)
On the generating side, China is to finance and build a 1.3GW coal power plant near the town of Dhankhali, a scheme that has been planned since March. This $1.6bn project will be developed by an equal joint-venture between China National Machinery and Bangladesh's North-West Power Generation Company.
When it becomes operational in 2019 the plant will burn an estimated 12,000 tonnes of coal daily, imported through a yet-to-be-built seaport.
Bangladesh has an installed generating capacity of 10.3GW for a population of around 156 million, only 62% of whom have access to it. This leads to per capita electricity consumption of 321kWh, one of the lowest in the world outside Africa.
The emphasis on improving the transmission and distribution system follows a nationwide blackout in November 2014 caused by the failure of a high-voltage line from India.
The visit is being seen as part of China's contest with India for influence in southern Asia. China's principal ally in the region is Pakistan, and its principal rival is India. In recent years it has used large-scale infrastructure projects to increase its diplomatic and financial ties with countries around India, including Sri Lanka, Iran, Nepal and now Bangladesh.
In response, India has moved closer to Japan and the US although, unlike those countries, it has joined the Chinese-led Asian Infrastructure Investment Bank, and has itself been a recipient of around $20bn in Chinese investment.
Bangladesh has been one of the winners of these geopolitical manoeuvres, attracting significant investment from India and Japan, albeit not on the same scale as these Chinese deals.
In the past relations between China and Bangladesh have been cool, partly because China supported Pakistan during Bangladesh's 1971 war of independence.
Top image: China already been involved in transport scheme such as the Karnafully Bridge in Chittagong (Mohammed Abdullah/Creative Commons)
Further Reading: