Construction has been completed on Solo House II in the eastern Spanish region of Matarraña, two hours drive south of Barcelona.
Belgian architect KGDVS says that an aim of the project was to see "how much you can take away from the idea of a 'house' and still make a proper place for living; to make a house that almost disappears".
Only 550 sq m of the 1,600 sq m project is taken up by the structure, which is divided into four parts, a master bedroom, living room, guest room and pool house, each measuring 60 sq m.
The concrete and glass development has a flat roof with a diameter of 45m supported by nine columns; it also has a 1,050 sq m patio garden with a natural carved pool.
The architect says the "roof functions as a shelter, and forms the perimeter of the inhabited surface".
The screen doors that surround the living areas can be opened completely, allowing the inhabitant to live in the "piece of nature without constraints, without boundaries between the 'house' and the nature surrounding it".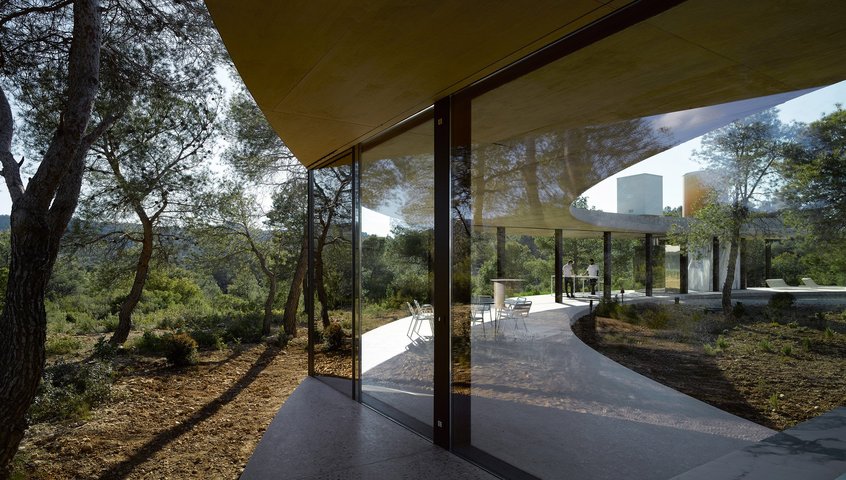 KGDVS says household objects like water tanks, generators and photovoltaic panels are housed inside "sculptural objects" on the roof of the building.
The house will not be connected to any services. Photovoltaic panels will provide heat and electrical energy, which will be stocked in buffer tanks. Water is collected on the site and purified after use.
The first Solo House was completed three years ago by the Chilean duo Mauricio Pezo and Sofia Von Ellrichshausen.
It is part of a larger 12-home project curated by developer Christian Bourdais. Other architects designing Solo Houses are Didier Faustino, Sou Fujimoto and Johnston Marklee.
Images courtesy of KGDVS/Bas Princen