Sixty years after the Serbian capital of Belgrade first proposed the building of a metro system, it has set a date for work to begin. 
The announcement was made yesterday by Sinisa Mali, the mayor of the city.
Broadcaster RTS1 reported that he told a meeting of Serbian and Russian businessmen that the plan for the first phase of the system would be drafted by 15 November, and ground would be broken towards the end of 2018.
He said: "The metro has never been closer to being realised than today. It will be a new source of growth for Serbia and Belgrade."
He added that an underground would cut traffic jams and help the development of other projects in the city.
Previous plans to build a system in this city of 1.5 million people have been frustrated by lack of funds, rows between the states of the former Yugoslavia, disagreements on the number of lines, and disputes over whether it should take the form of an underground or a light-rail overground. 
In the past six years, possible start dates have repeatedly been proposed, and possible sponsors announced. In November 2011, it was said that French companies Alstom and the Egis Group would build a system with the help of a €1bn loan from the French government.
However, Mali's remarks implied that Russian companies would now take the lead in building and financing the scheme.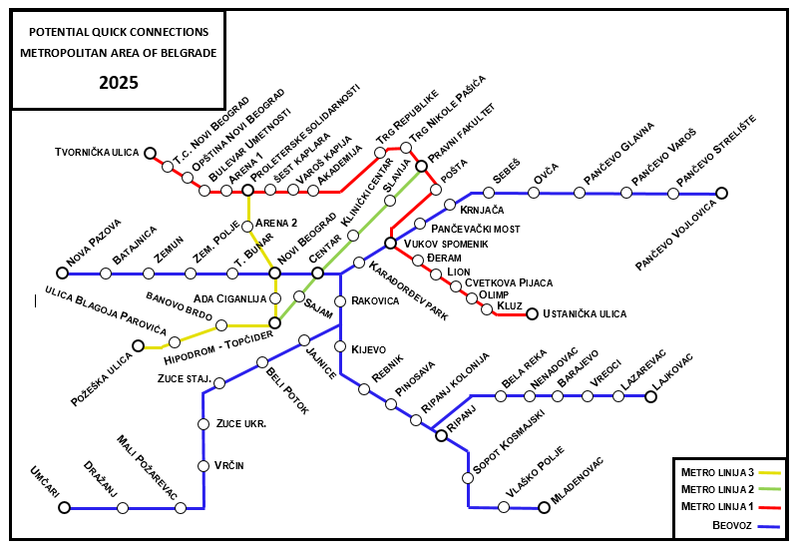 One possible layout for a three line metro (Oli/Creative Commons)
The chances of the project beginning in 2018 will be improved if other developments go ahead. Borko Milosavljevic, the assistant mayor, told reporters that schemes with an estimated combined value of €10bn were on the drawing board.
The largest of these is the "Belgrade on Water" plan (pictured). This would have a total value of around €3.5bn, and would consist of 2 million square metres of residential and office space along the right bank of the Sava river, between the Belgrade Fair site and main railway station.
This project, which was initiated by the government of Serbian and Abu Dhabi developer Eagle Hills, would comprise Belgrade Park, the Sava Promenade, five-star hotels, a shopping centre and the Belgrade Tower, a 210m residential tower designed by Skidmore, Owings & Merrill.
Mayor Mali also announced the construction of two bridges and two tunnels, and added that work would the carried out to complete a bypass around Belgrade.
He added that Belgrade was looking to form public-private partnerships and invited investors to come and talk to the city government.
Top image: Eagle Hills' model for the regeneration of Belgrade's waterfront (Lee Turtle/Creative Commons)
Further Reading: