Italy's Salini Impregilo Group is celebrating contract wins worth more than a billion dollars in just one week in Qatar.
On 8 July it signed a $861m (€770m) contract to build the Al Bayt stadium (pictured) in Al Khor for the 2022 FIFA World Cup and, on the following day, a $335m deal to build roads and other infrastructure at a new residential area in Shamal.
The company won the stadium job in a joint venture with Galfar and Cimolai, saying it beat "many competitors from France, Austria, India, and Asia".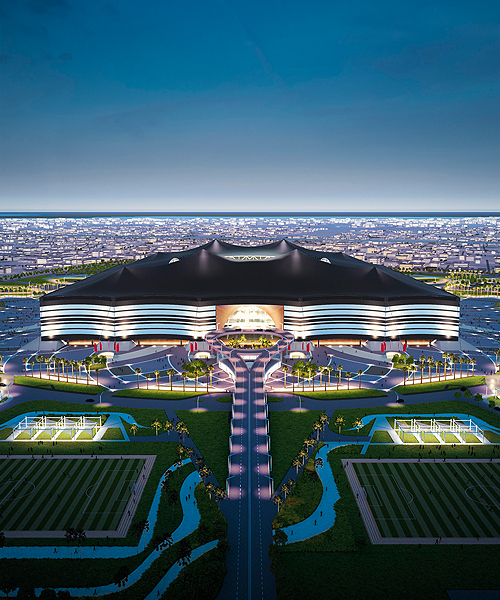 The $861m Al Bayt stadium in Al Khor, Qatar (Salini Impregilo)
The project was awarded by the Qatari government foundation, Aspire Zone, which is responsible for the development of sports infrastructure.
It will accommodate 70,000 spectators in an area of 200,000 square meters.
The design, by Dar Al-Handasah (Shair and Partners), is inspired by the black and white tents – called Bayt Al Sha'ar – traditionally used by Qatari nomads.
An extensive black roof would normally absorb too much heat for human comfort, but Dar Al-Handasah has said that a special additive in the covering membrane will reflect solar rays and reduce internally radiated heat. 
Construction is scheduled for completion in September 2018.
The second project, for urban infrastructure in Shamal, 100km from the capital, Doha, is part of the "Framework Contract for Local Roads and Drainage Programme (LR&DP)". 
Salini Impregilo, part of a consortium with Bin Omran of Qatar, won over the three competitor consortiums from the Gulf area, Asia and the United States, the company said.
The works, which must be completed within 30 months, were awarded by the Public Works Authority of Ashghal, which is responsible for public infrastructure in Qatar.
Salini Impregilo's package includes roads and water projects for approximately 25% of 1,043-ha area to be developed.
Salini Impregilo is already working on the Red Line North of the new Doha Metro, and the Abu Hamour hydraulic project.