A team led by a subsidiary of French contractor Bouygues Bâtiment International has completed two Singaporean towers 21 months ahead of schedule by using prefabricated units, the first time the technique has been used on this scale.  
Clement Canopy consists of two 140m-tall residential buildings in the Jurong Lake quarter of the city. They were completed in the first quarter of the year by Dragages Singapore using 1,866 prefabricated prefinished volumetric construction modules (PPVC), which the contractor says allowed it to cut about 30% off the schedule.
In the past, volumetric techniques have often been used to build low-cost housing, such as student accommodation. In this case, a three-bed flat costs US$1m, and comes with a full range of the latest digital smarthome features.
Most of the units have already been sold.
The modules were finished inside and out at offsite plants, which in this case are located in Malaysia. They were then craned into position on a reinforced concrete frame.
The modules arrive with their windows, doors, floor and wall coverings, wardrobes, shower, mirror, electrical outlets, switches, and air-conditioning already installed, with all the plastering and painting done, and with everything from floor to ceiling tested.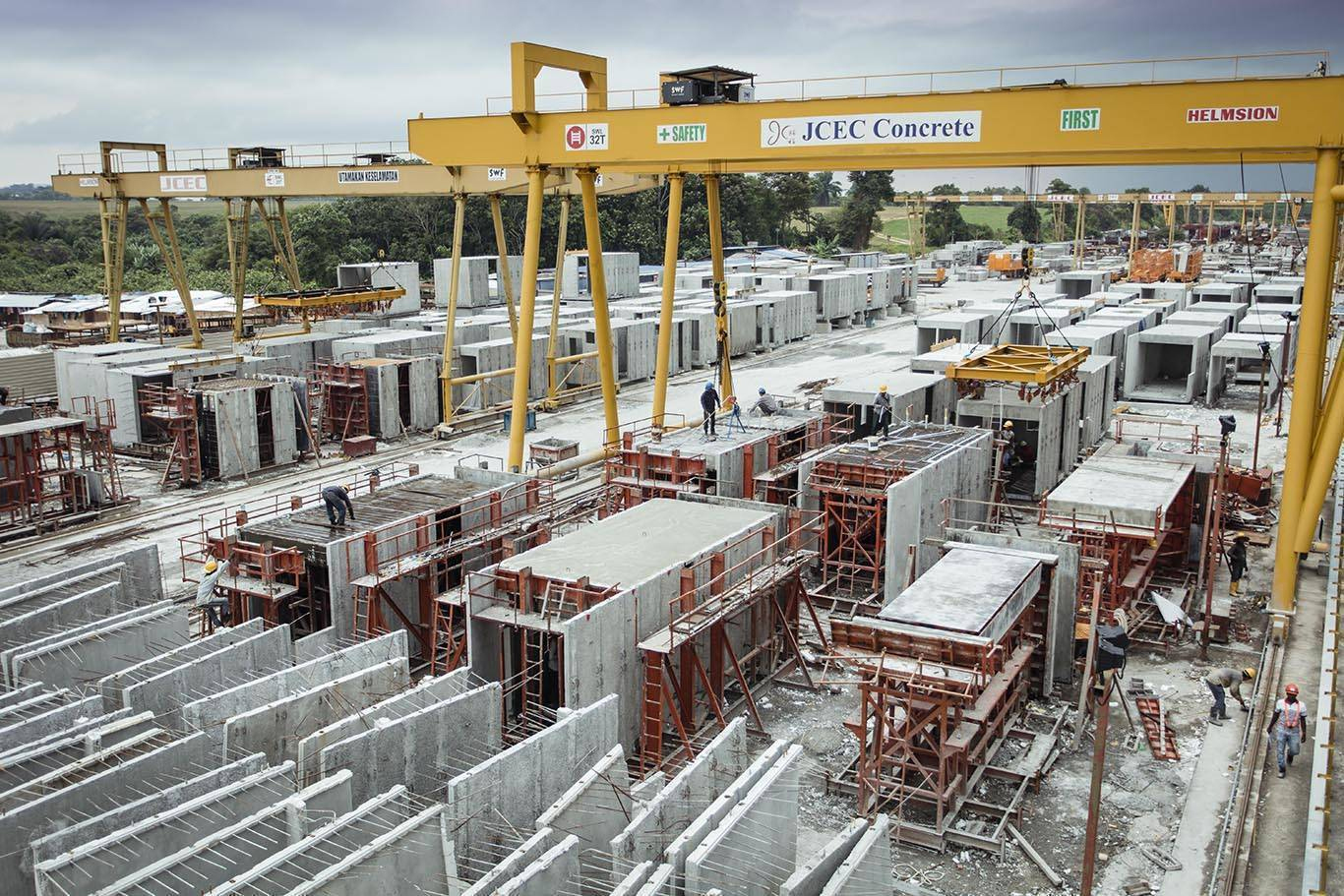 The plant at Senai, Malaysia, where modules were precast for the Clement Canopy (Arnaud Février/Bouygues Bâtiment)
The 40-storey condominiums, which were develop by Singapore-listed UOL Group and United Industrial Corporation, are the world's tallest to be built using the method.
Although this technique requires about half the labour of a conventional project, the costs are presently about 5-10% higher, partly because the region lacks economy-of-scale manufacturing. Â 
Seng Swear Wern, the production manager on the project, said modular construction on this scale presented technical challenges for the project team.
He commented: "Stacking modules one on top of another like Lego blocks might seem like child's play, but that's not the case at all. This operation calls for the precision of a goldsmith, with a tolerance of 2mm for the joints between the modules. Anything greater would threaten the building's stability."
PPVC construction has been championed by the government of Singapore, which in 2014 set out a requirement that it be used for 65% of the floor area in new-build schemes.
Top image: Construction under way … (Arnaud Février/Bouygues Bâtiment)
Further reading: