Work has been officially completed on China's National Maritime Museum in the port city of Tianjin, which combines a huge scale with a striking design, a range of green features and a political message.
The museum, built over six years on Tianjin's waterfront on Bohai Bay, resembles four immense aluminium-clad telescopes directed out to the East China Sea. It was designed by Australia's Cox Architecture in association with the Tianjin Architecture and Design Institute, and UK consulting engineer Arup.
Building was carried out by China Construction Engineering Corporation using Tianjin's shipbuilding know-how.
The building covers 80,000 sq m, roughly two and a half times the area of the Sydney Opera House. This is divided between six display areas and 15 exhibition halls on three floors.
The interior of an exhibition hall
The sustainable elements include an outer shell fitted with an integrated drainage system to channel rainwater into storage tanks and its patterned façade also helps shed snow, which can be heavy in northeast China. The roof includes a solar panel array that, together with its geothermal heating system, reduced the energy needed to run the building.
Earthquake-proofing is done by means of massive ball joints that are designed to move in response to a seismic event.
The four protrusions are cantilevered over the bay by as much as 42m. Each has a theme – namely, "the ancient ocean", "the ocean today", "journey of discovery" and "the age of the dragon", and aim to highlight China's historical role as a maritime power.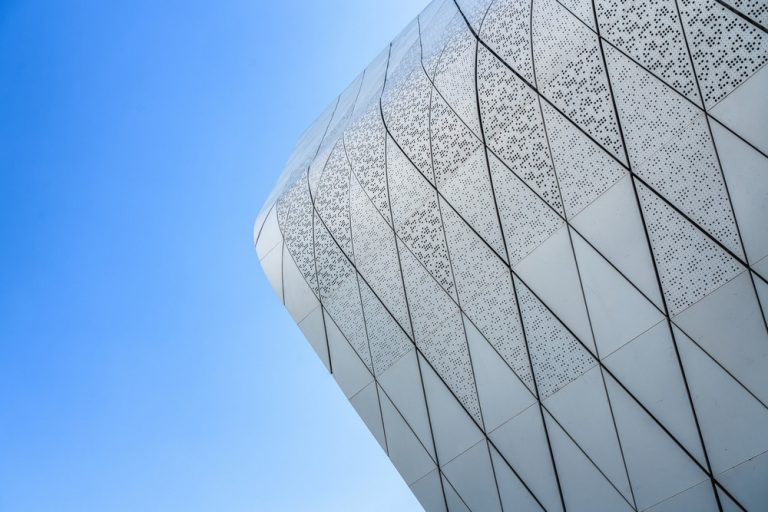 The 55,000 sq m of aluminium cladding is inscribed with drainage channels
As for the political message, Michael Rayner, a former Cox partner, told the Australian Financial Review last year that the sponsors, the National Maritime Museum Preparatory Office of the Chinese Government and Tianjin Municipality, were "keen to show as much as possible China's maritime trade correlation to European and Middle Eastern trade, rather than be seen as some kind of isolated maritime history".
Philip Cox, the company's co-founder, told the paper that the scale of the museum made it "a very important statement" that China "has been a maritime power and maintains its position as a maritime power".
He added: "I think unlike other countries that haven't asserted themselves in that demonstrative way – even the Japanese haven't done that – the Chinese felt it necessary to make a statement that yes, it has always been a maritime power."
The museum is one of the anchor attractions for the recently developed Binhai New Area
Cox won the scheme back in 2013 after an exhaustive eight-month design competition involving multiple phases, and later won the "World's Best Future Projects Competition Entry" award at the prestigious World Architecture Festival Awards of that year.
Construction work was finished in May last year, and the building has since been commissioning its systems.
Top image: The cantilevered design of the wings was one of the most discussed design features. All photos courtesy of Cox Architecture
Further reading: