The Nigerian government has signed a new memorandum of understanding with the China Civil Engineering Construction Corporation (CCECC) for the construction of the 1,400km Lagos-Calabar Coastal Railway, one of the highest value rail projects in African history.   
Rotimi Chibuike Amaechi, the transport minister, signed the agreement on behalf of the federal government on Friday, 1 July.
This is not the first time that officials have signed up to the deal. A framework agreement was concluded in May 2014 during a visit to Lagos by Chinese premier Li Keqiang, and was officially signed by then-president Goodluck Jonathan the following November.
The price agreed at that time was $12bn.
The project then made little progress until Muhammadu Buhari, who became president in May 2015, met Chinese president Xi Jinping in December 2015 to discuss ways to get the scheme moving.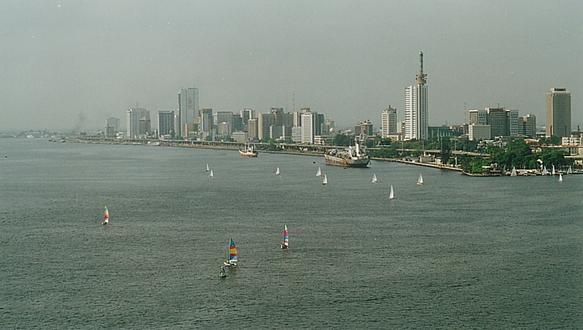 Lagos will finally have a modern connection to neighbouring coastal cities (Wikimedia Commons)
The latest deal revises the price downwards by almost $1bn. Amaechi attributed this to a fall in the price of steel, among other factors. Almost all the investment for the scheme is to come from the Export-Import Bank of China.
The standard gauge route will link all the cities in Nigeria's 10 coastal states, from Calabar in the east to Lagos in the west, via Aba, Port Harcourt, Warri and Benin City. It is expected to be built two years after the commencement date.
According to CCECC, the line is to be built to "Chinese standards", however it will not run at Chinese speeds: trains will be limited to 120 km/h.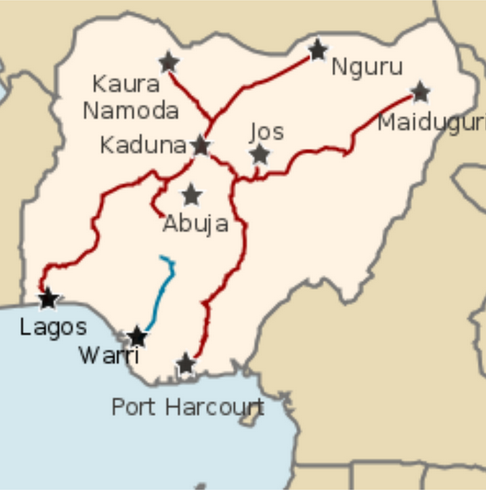 Nigeria's present intercity rails system (Wikimedia Commons)
The line will be built by China Railway Construction Corporation, a subsidiary of CCECC. It has been working on planning for the route since 2010.
Meng Fengchao, chairman of China Railway, told China's state news agency Xinhua last year that the project would require Chinese exports totalling $4bn, including construction machinery, steel products and rolling stock. He predicted that it would create up to 200,000 local jobs during the construction and around 30,000 permanent posts once the line was operational.
Nigeria's rail system consists of two north-south lines, between Lagos and Nguru, and Port Harcourt and Maiduguri. The capacity of the lines has suffered from a long period of under investment, and there are no rail links to neighbouring countries.
Top image: Nigeria's rail system is in need of renewal (Nigerian Railway Corporation)