China has invested more than $43bn in domestic railway construction in the first half of this year, a rise of 13% on the level achieved in 2014, according to the national rail operator, China Railway Corporation, The BRICS Post reports.
But the government is expected to double that expenditure in the second half of 2015 as it tries to boost demand in the slowing economy through infrastructure spending.
Prime Minister Li Keqiang said in his annual state-of-the-nation report that China would invest $128bn in domestic railway construction this year while seeking to increase its overseas market share.
Such figures make China the world's biggest investor in rail, according to analysis by GCR.
The Chinese government has made railway infrastructure one of the seven prioritized sectors for investment and export, and policymakers have set a target of 8,000km of railway lines to be opened to domestic traffic this year.
China is competing for contracts in emerging markets in Africa, Eastern Europe, Latin America and Southeast Asia while also pitching for high-profile contracts in the US and EU, including the UK's High Speed 2 link.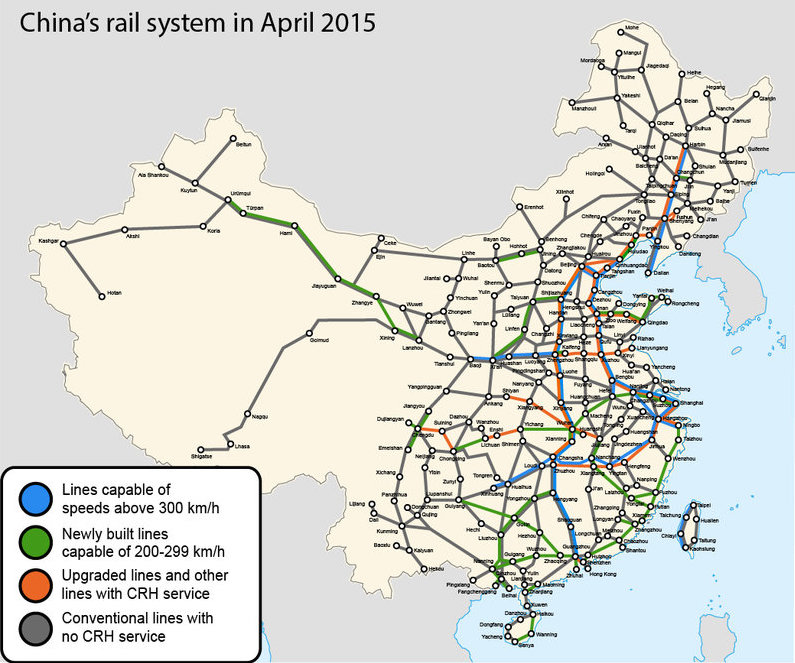 China's burgeoning rail system will gain 8,000km this year (Source: Howchu/Wikimedia Commons)
Such a large and guaranteed pipeline of domestic work helped China Railway Construction Corp (CRCCG) raise $1.6bn by successfully placing 1,242 million shares on the Hong Kong stock exchange last month.
Meanwhile, China Railway Signal and Communication Corp, the world's largest builder of rail traffic control systems, raised $1.8bn in a Hong Kong listing last week, and its shares began trading in Hong Kong yesterday.
China's two largest locomotive equipment makers, China CNR and CSR, jointly signed more than $6bn of overseas contracts last year, up 60% from 2013, official data shows.
Main photograph: Second-class carriage interior on a China Railway high-speed train (Thyristorchopper/Wikimedia Commons)