A Chinese company said to have helped build islands in a contested part of the South China Sea has won a contract to build four artificial islands off Davao city in the Philippines, itself one of the countries protesting against China's maritime territorial manoeuvres.
The contract, which will create 208 hectares of reclaimed land for a major port and commercial development in Davao, is seen as part of Philippine President Rodrigo Duterte's pivot towards China and away from its traditional ally, the US.
China Communications Construction Co. (CCCC), a state-owned group, signed the contract with the Philippines' Mega Harbor Port and Development Inc. during a visit to China last week by Duterte, who was mayor of Davao before assuming office as president on 30 June this year.
Masterplan of the Davao Mega Harbour Scheme
The offshore development, billed in Philippine media as "the hottest business-entertainment-residential world-class port city", was agreed between Mega Harbor Port and Development Inc. and Duterte when he was mayor only the day before he was sworn in as the country's president.
CCCC's subsidiary, CCCC Dredging, will undertake the project in Davao, on Mindanao Island in the southern part of the country, Chinese media reported on 24 October. The four islands will be built along the 8-km coastline of Davao Bay. Reports said CCCC Dredging is the largest dredging company in China in terms of capacity and installed power.
Relations between China and the Philippines had been strained over China's island-building in the South China Sea, particularly after an international tribunal in The Hague ruled in July that there was no legal basis for China's claims to much of the waters.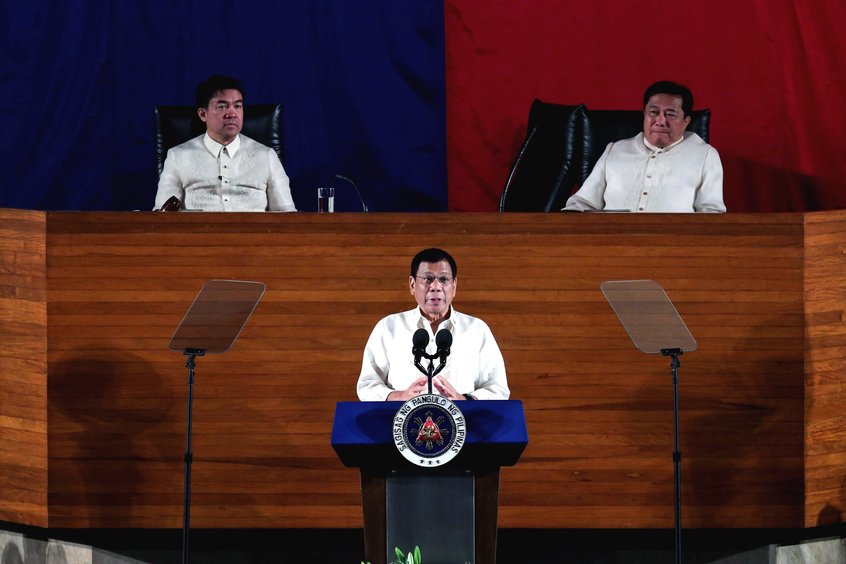 President Rodrigo Duterte gives his State of the Nation Address, 25 July 2016 (ACE MORANDANTE/PPD)
Satellite images analysed by IHS Jane's, a defence analyst, showed that Tianjin Dredging Company, one of CCCC Dredging's three subsidiaries, operated most of the barges used to heap sand on remote coral atolls, reports newspaper South China Morning Post.
But President Duterte is not letting maritime disputes get in the way of new business relationships with its large neighbour. Last week, as well as the Davao dredging deal, China and the Philippines agreed $15bn in capital projects and $9bn in credit lines, marking the beginning of closer economic and diplomatic ties.
Top image: The existing Sasa Wharf in Davao City, the Philippines (Wikimedia Commons)
Further Reading: