The London Hackney Carriage, which has been a distinctive part of the city's streets in one form or another since the advent of the internal combustion engine, is set to spread around the world, if its Chinese maker's plans come to fruition.
The black cab is presently made by the London Taxi Company, a subsidiary of Geely Automobiles, the largest private car producer in China. Geely began producing the marque's current TX4 model in China in 2007 under licence from the London Taxi International (LTI), before taking over LTI after it went bankrupt in 2013.
Geely boosted output of the taxi tenfold by setting up a factory to make the TX4 near Coventry in the West Midlands – the UK's first new auto plant in more than a decade. The company also makes a hybrid version in Geely's home province of Zhejiang.
Li Shufu, the founder of Geely, told the South China Morning Post that he wants to "bring the product to the new world and into the new generation".
Production is now carried out by the Geely subsidiary London Electric Vehicle. Chris Gubbey, the BMW man who was brought in as chief executive, said the company planned to expand production with the aim of making it a global brand.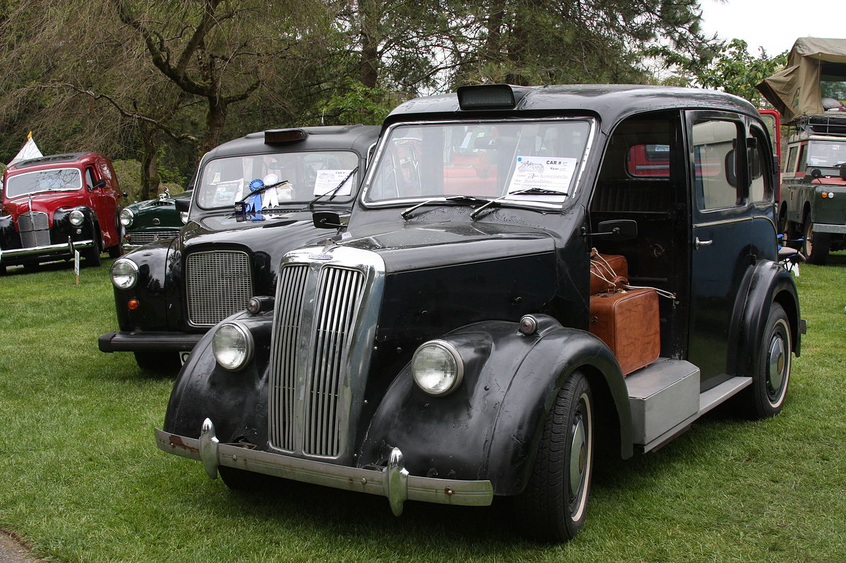 Generation gap: the fifties version of the cab had to have an empty space at the passenger side for luggage
He commented: "If you take this quintessentially London product and turn it into a zero emission, purpose-designed taxi, it can become a transport solution and a contributor to improving air quality in every major city across the globe."
He added that the company is increasing its output "week by week" to make up 80% of the 21,300 taxis on London's streets by 2020.
The chassis of the TX hybrid is made entirely of aluminium and composite panels. Its electric engine has a range of 112km with zero emissions, while a small petrol engine recharges the battery while on the road, yielding a total range of 400 miles before refuelling.
Top image: The "London black cab" seen here dressed in white on the streets of Singapore (EurovisionNim/Creative Commons)