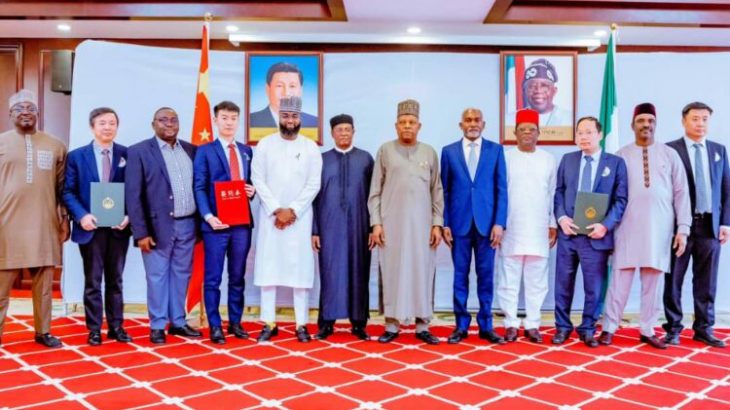 Nigeria's science and infrastructure agency says it has reached non-binding agreements with Chinese companies covering projects in Nigeria worth a combined $6bn.
The agreements came out of talks held during the Third Belt and Road Initiative Forum in Beijing last week.
The National Agency for Science and Engineering Infrastructure (Naseni) said it had concluded three memoranda of understanding and 10 letters of intent.
The memoranda covered the following projects, which Naseni said had a total value of $2bn:
An EV plant, to be built by Shanghai Launch Automotive;
A drone factory, to be constructed by China Great Wall Industry Corporation;
A technology transfer deal with Newway Power Technology, to cover expertise in EVs and lithium-ion batteries.
The letters of intent expressed Chinese companies' interest in partnering with the agency to develop solar energy, natural gas and microgrids, as well as EVs and drones.
Other deals covered training and technology transfer, and there was an agreement to develop an industrial park, although Naseni did not say where.
Naseni chief executive Khalil Halilu said the agreements resulted from six weeks of negotiations held since he assumed his position.
The Chinese companies that submitted letters of intent included solar specialist TBEA, carmaker DongFeng Vehicles, LNG company HiLong Energy, contractor China State Construction Engineering and natural gas provider CIMC.
Acadia Technologies of Shenzhen is hoping to develop smart grids and microgrids, Space Star Technology is the drone maker and ENRIC operates in the field of clean energy
The industrial park, if it goes ahead, will be developed by Hidier Power Group, a Beijing-based manufacturer of diesel generators.