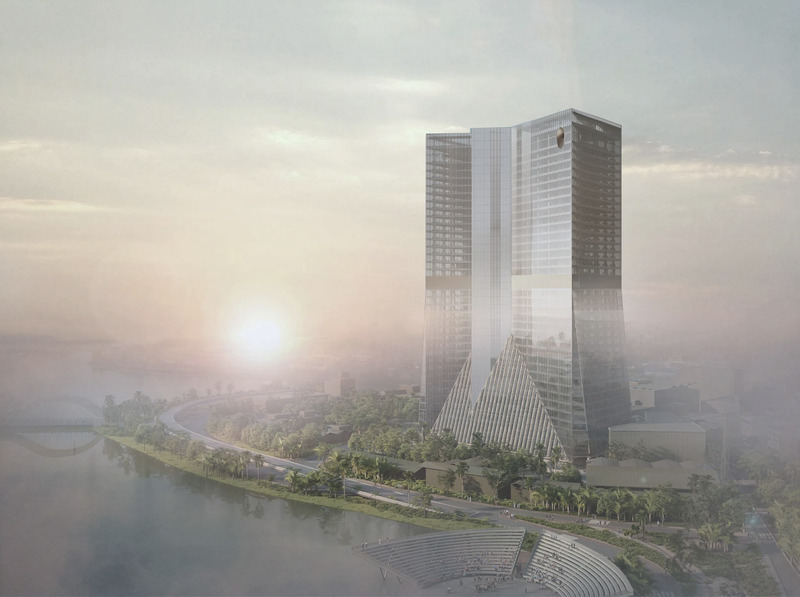 Construction has begun on the Dhaka Tower, a 150m-tall, 180,000 sq m building designed by the Netherlands' Office for Metropolitan Architecture (OMA) for Bangladesh's capital.
Located by Hatirjheel Lake, the Dhaka Tower will contain offices, as well as shops and restaurants. There will also be a 40m-tall exhibition space at the base and a restaurant and two-tier observation deck at the crown.
The project has two triangular floor plates connected by a rectangular core, which lead to large fritted glass atriums connected to landscaped exteriors. Open lifts will allow views of the lake while travelling.
The tower will become one of Bangladesh's tallest buildings and the largest in a new commercial district located at the edge of the former industrial area of Tejgaon.
Iyad Alsaka, OMA partner, said: "Our design for Dhaka Tower is inspired by the spirit of Bangladesh's thriving economy. Its shape expresses the aspirations of a dynamic nation, making a bold statement on the city's skyline."
More information about the project is due to be announced in early 2024. Local real estate company Shanta Holdings is developing the tower.