14 May 2013
China State Construction Engineering Corporation (CSCEC) has come to an agreement with Libyan authorities over resuming construction of 20,000 homes in Benghazi even as bombings cause death and terror in the birthplace of the Libyan revolution.
Resolving issues of compensation and increased costs, CSCEC signed an agreement with Libya's ministry of housing on 12 May to resume work on 20,000 housing units in the Gwarsha and Khadra districts, newspaper the Libya Herald reports.
The project was suspended by the start of the uprising in Benghazi against Libyan dictator Moammar Qaddafi in 2011.
According to the Herald, since then efforts by both sides to get the project restarted have been blocked by arguments over compensation and increased costs in the intervening period.
"We need to complete this project to resolve the desperate housing crisis," Libya's housing and utilities minister, Ali Sharif, stated.
He called the deal a "second profitable chance" for CSCEC, the Herald reported.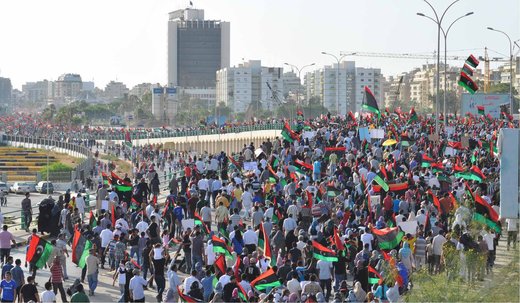 Anti-Gaddafi protesters in Benghazi, July 2011. (Credit: Wikimedia Commons/Mbi3000)
By way of compensation for the suspended project CSCEC is to be given additional contracts to provide infrastructure for the development.
Negotiations for its resumption involved the ministry of housing, Libya's deputy prime minister Awad Barassi, and China's ambassador to Libya, Wang Wangsheng, the Herald said.
Bombs have wreaked havoc in Benghazi in recent months. The day after CSCEC's agreement was signed, on 13 May, a car bomb exploded near the city's Jalaa hospital, with unconfirmed reports saying three people were killed, according to the BBC.
The week before at least three police stations were bombed in Benghazi, causing damage but not casualties.
In September 2012, the US consulate in Benghazi was attacked by armed men, leading to the killing of ambassador Christopher Stevens and three other American officials.
CSCEC's return to Benghazi comes after another globally-active Chinese firm, Sinohydro, announced it would no longer pursue contracts in high-risk locations.