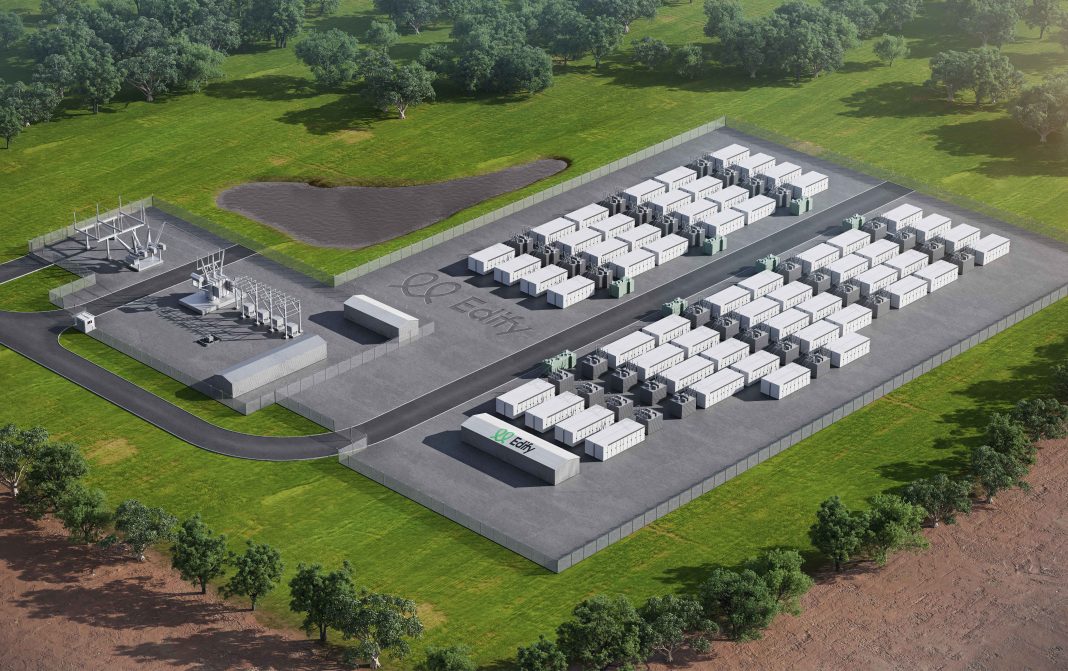 Australian renewable energy company Edify Energy has completed financing to build and operate what it says is the country's biggest utility-scale battery system to store solar energy for release at times of peak demand.
The 150MW/300MWh facility in New South Wales (NSW) will be able to power 40,000 homes for two hours.
It will help electricity suppliers Shell Energy and EnergyAustralia fulfil their respective long-term solar-power purchasing contracts with the government of NSW.
The deal is the first battery asset transaction in the Australian market. Edify said it would help secure the stability of renewable energy in NSW.
The agreement sees Federation Asset Management, an investor in renewables, take a majority shareholding of the project as the seed asset for its Sustainable Australian Real Asset fund (SARA).
Edify retains some ownership and will undertake construction management and long-term asset management for the installation, which will have three separate units comprising Tesla Megapacks.
Located in the Murrumbidgee Shire, southwest NSW, the three co-located units are:
the 60MW/120MWh Riverina Energy Storage System 1 (RESS 1);
the 65MW/130MW Riverina Energy Storage System 2 (RESS 2); and
the 25MW/50MWh Darlington Point Energy Storage System (DPESS).
Shell will get operational rights to the RESS 1 unit and EnergyAustralia will use RESS 2 and DPESS.
Also involved in the scheme are the Commonwealth Bank of Australia (CBA), Australian bank Westpac, and Norwegian bank DNB, which are providing a long-term syndicated debt facility.
Edify said the batteries will be equipped with grid forming inverters that operate in "virtual synchronous generator" mode, which allows the system to operate like a conventional generator.
"In this instance," said Edify chief executive John Cole, "we're using the combination of the dispatchable properties of batteries with a new vintage of grid forming inverter control systems to create a generator that can provide power system support services, which have traditionally been provided by thermal synchronous generators."
Cole added: "The deployment of this new technology as part of the energy transition is now unstoppable."
Stephen Panizza, head of renewable energy at Federation Asset Management, said: "Energy storage will be a cornerstone of a decarbonised electricity grid."
Anthony Miller, Westpac chief executive, said: "Clean energy technologies, such as utility scale batteries, have a critical role in ensuring grid stability as Australia transitions to greater renewable energy and a low carbon energy future. Edify and Federation Asset Management's strong track record with these projects, and the long-term offtake agreements Edify negotiated, make this an attractive and credible financing opportunity and Westpac is pleased to be a part of it."
Mark Collette, EnergyAustralia's managing director, said battery projects like this would allow more renewables to enter the system. "These technologies will become the backbone of a modern energy system that will step in and keep the lights on when demand for electricity is high, as well as allow solar energy to be used – even when the sun isn't shining," he said.
The battery installation will be built on the traditional land of the Wiradjuri people, the largest Aboriginal Nation in NSW. Edify said it "acknowledges the Wiradjuri people as the traditional custodians of this land and their deep understanding of how to live in harmony with the environment".
Tesla Motors Australia holds the contract to deliver the facility, which is due to be completed in stages during the first half of 2023.