The Netherlands is pioneering a rapid-action housing retrofit scheme that makes homes carbon-neutral in just 10 days by wrapping them with external insulation and capping them with better roofs and solar panels.
The Dutch government has awarded the first contract to retrofit 111,000 homes built in the 1960s and 70s, and the "Energiesprong" (Energy Leap) initiative is now bidding for €10m ($12.8m) from the EU's Horizon 2020 fund to roll the scheme out in the UK and France, reports the UK's Guardian newspaper.
The approach involves completely wrapping houses with insulated, snap-on facades and capping them with insulated roofs adorned with 24 high-efficiency solar panels.
In addition, heat pumps, hot water storage tanks and ventilation units are set up in garden sheds.
The scheme's organisers say the €6bn needed for the carbon-neutral retrofit blitz on 300,000 homes would be paid back by housing associations from savings on energy bills. Upfront capital has come from the WSW social bank, which provided €6bn to underwrite government-backed 40-year loans to housing associations.
Residents of homes already "wrapped and capped" are full of praise.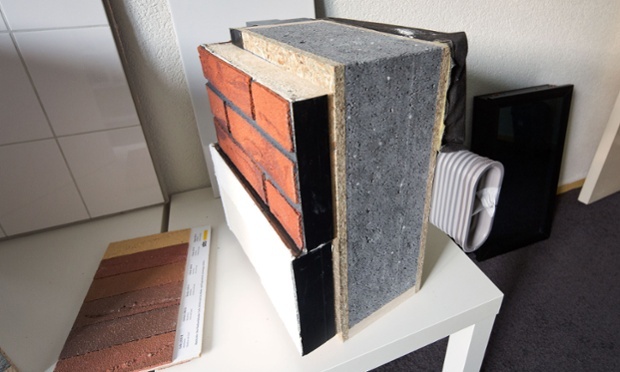 Cross section of the external insulating panel (Energiesprong)
"This new house is great," former social worker Astrid Andre, living on the Woonwaard housing estate near Amsterdam, told The Guardian. "You can't hear the traffic from outside anymore. It feels as if I'm living in a private home, rather than social housing. Before, the wind used to go through the house in winter."
The scheme faces some restrictions. The retrofit blitz can only go ahead if all tenants in a block agree. That led housing associations to offer free bathrooms, fridges and Ikea kitchens as incentives.
Energiesprong has influential allies in its bid for EU money to expand into the UK. The Guardian reports that bid partners include the Greater London Authority (GLA), the Department of Energy and Climate Change (Decc), The Housing Finance Corporation (THFC) and the National Federation of Housing Associations (NFHA).
See: Eneergiesprong; Guardian