A decade after the foundation stone was laid for Hamburg's Elbphilharmonie concert hall, it has finally ended – six years late and about €600m over budget.
Ole von Beust, the former mayor of Hamburg, told web.de that the city would have one of the best concert halls in the world. However, he added that he would have been even more pleased "if it would have been faster and cheaper to build".
The mayor blamed the cost overrun on poor planning at the beginning of the project.
When the project was conceived in 2005, the estimated cost was put at €186m. The project is now forecast to have an out-turn cost of around €800m, with the difference to be paid by German taxpayers.
An investigation launched by Hamburg's city council blamed, among many others, Ole von Beust, whom it said should have flagged up possible problems with the construction plans. It also pointed a finger at Volkmar Schön, Beust's city councillor, who was accused of "failing in his responsibilities".
Also to blame, according to the report, was former project coordinator Hartmut Wegener who "lacked expert knowledge". He was replaced in autumn 2008, but his successor, Heribert Leutner, was found to have concealed the scale of the building disaster.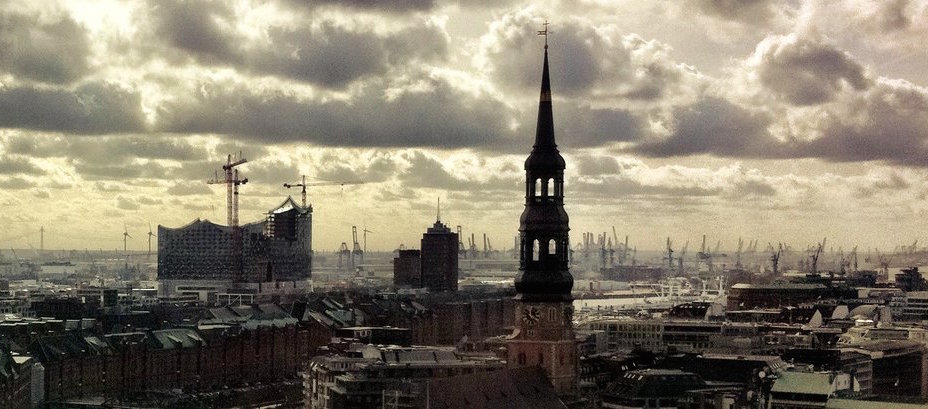 The hall seen in a dramatically lit skyline (Jan O/Creative Commons)
The report also criticises Hochtief, the contractor for the scheme, for putting in an unrealistically low bid and architect Herzog & de Meuron for failing to stick to the planning schedule.
Among the uncomfortable details that came to light was that €300 had been spent on a toilet brush.
The project involved turning the Kaispeicher A, a former warehouse on the Speicherstadt plaza, into an arts venue. The Swiss architect is no stranger to this type of project, having already turned a massive brick-built power station into the Tate Modern art gallery in London's South Bank. Â 
One of the attractions of the concert hall will be a high-tech, €2m organ made from 4,765 pipes (click here to see a video of the instrument being taken for a quick fugue by Latvian concert pianist Iveta Apkalna). Expectations of the acoustics are high.
The hall will be open to visitors on Friday, and its first show will be a sound installation by Brian Eno called "the Ship". The grand opening, and first proper concert, will be held on 11 January. Â 
Top image: The finished hall (Creative Commons)