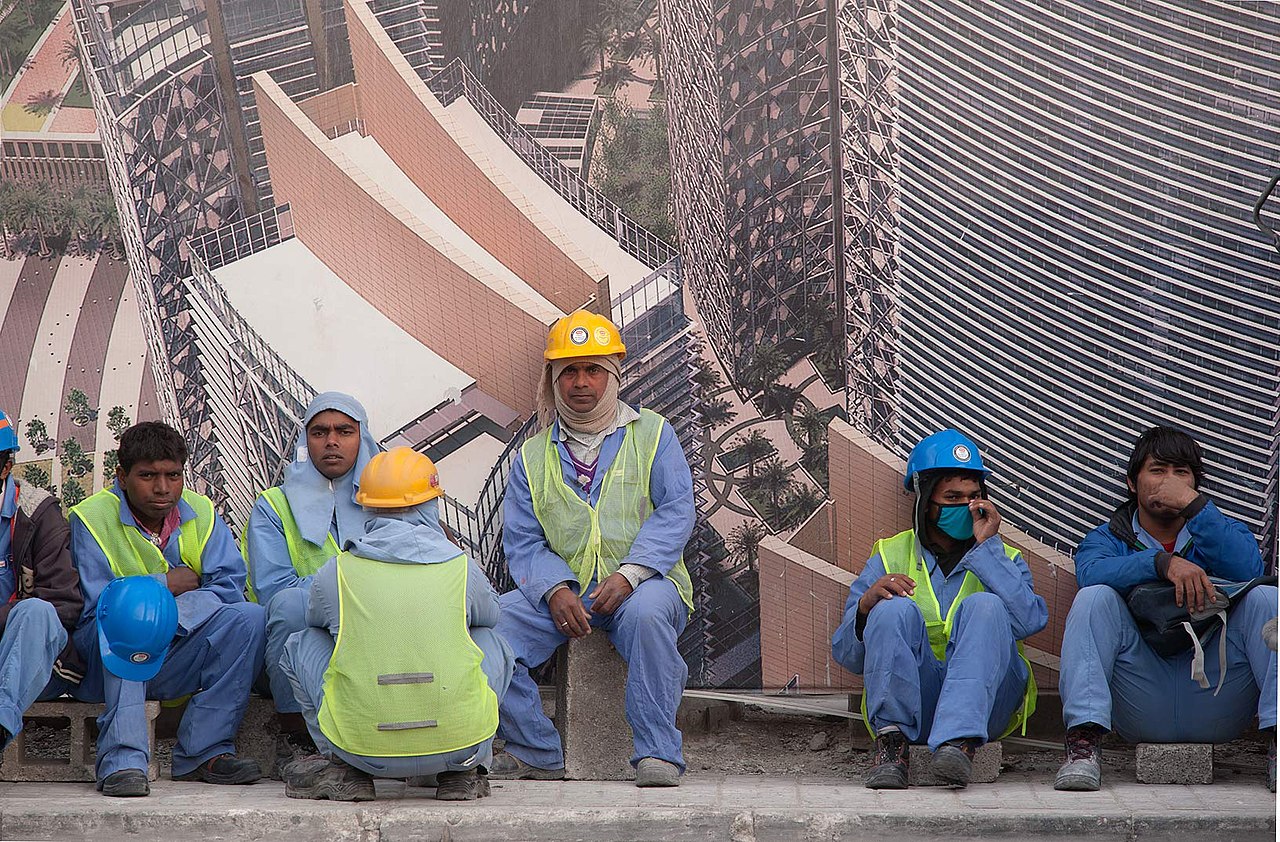 Alarmed at "meaningless" death certificates that could be masking avoidable heat deaths among migrant construction workers in Qatar, rights group Amnesty International has called on national football associations, including the English FA, to pressure the country to change ahead of next year's World Cup.
Amnesty says Qatari authorities have not investigated the deaths of thousands of young, healthy workers over the past 10 years as it launched a construction bonanza to prepare for the tournament.
Instead, the group says, authorities routinely pass the causes off as unspecified "heart failure" and "natural causes", even after studies have found correlations between early death and Qatar's punishing heat.
As well as proper autopsies, Amnesty wants Qatar to issue adequate compensation to the families of the dead men, often their families' sole breadwinner, if the cause is found to be avoidable heat exposure.
Qatar is one of the richest countries in the world – not only can it afford to do far better, it has an obligation to do so

Steve Cockburn, Amnesty International
It reviewed data from the South Asian countries who supply most of Qatar's construction labour, concluding that up to 70% of worker deaths in Qatar are effectively unexplained.
"Qatar is one of the richest countries in the world – not only can it afford to do far better, it has an obligation to do so," said Steve Cockburn, Amnesty's head of economic and social justice.
"When relatively young and healthy men die suddenly after working long hours in extreme heat, it raises serious questions about the safety of working conditions in Qatar."
Amnesty analysed 18 death certificates and interviewed the families of six men who were between 30 and 40 when they died.
Of the 18 certificates all issued between 2017 and 2021, 15 gave no information about causes beyond terms such as "acute heart failure natural causes", "heart failure unspecified" and "acute respiratory failure due to natural causes".
Families all said the men had no known underlying health issues.
Dr David Bailey, a pathologist and member of the WHO working group on death certification, called the certificates "meaningless".
"These are phrases that should not be included on a death certificate without a further qualification explaining the underlying cause. Essentially, everyone dies of respiratory or cardiac failure in the end and the phrases are meaningless without an explanation of the reason why," he told Amnesty.
Sacha Deshmukh, Amnesty International UK's chief executive, said England players, staff and supporters should put pressure on Qatar.
"Migrant worker deaths are casting a long shadow over the 2022 World Cup," he said. "The FA, as part of the UEFA Working Group on Workers' Rights in Qatar, should be at the forefront of concerted efforts within FIFA to press Qatar to urgently strengthen migrant worker protections, and to investigate deaths and compensate families."
Government records in Bangladesh show that 71% of deaths of Bangladeshi nationals in Qatar between November 2016 and October 2020 were attributed by Qatari authorities to "natural causes", Amnesty said.
But a 2019 study in the journal Cardiology found a correlation between heat and Nepali worker deaths in Qatar, concluding that "as many as 200 of the 571 cardiovascular deaths [of Nepali workers] during 2009-17 could have been prevented" with effective heat protection measures.
In May, Qatar extended the summer working hours restrictions to 1 June-15 September and introduced other requirements including a prohibition on outdoor work when an index measuring heat/humidity reaches 32 degrees. New legislation gives workers the right to stop working and complain to the labour ministry if they are worried about heat stress.
Amnesty comments that given "the extremely unequal power relations" between workers and employers in Qatar this, plus an option for workers to "self-pace" in the heat, are unlikely to save lives. It wants mandatory rest periods proportionate to heat and the nature of work instead.
Amnesty investigated the deaths of six men and interviewed their families in Nepal and Bangladesh.
They included Sujan Miah, 32, who worked as a pipe fitter on a project in the desert, and who was found dead in his bed in September 2020. During the four days leading up to his death, temperatures in Qatar had exceeded 40°C.
Tul Bahadur Gharti, 34, worked in construction and died in his sleep in May 2020 after working some ten hours in temperatures that reached 39°C.
Families told Amnesty that the compensation they received only covered the debts they had taken on to pay the recruitment fees required to work in Qatar.
Image: Migrant workers in the West Bay area of Doha, Qatar, waiting for a bus (Alex Sergeev/www.asergeev.com/CC BY-SA 3.0)