More than 400 workers took part in a four-day race to pour 42,900 cubic metres of concrete for a Shanghai bridge project, the largest such project in Chinese history.
The feat was performed by the China Railway Major Bridge Engineering Group Corporation.
The concrete, together with 7,420 tonnes of steel reinforcement, was used to make a 9m-thick base for one 325m-high pier of the 11km-long Shanghai-Nantong crossing.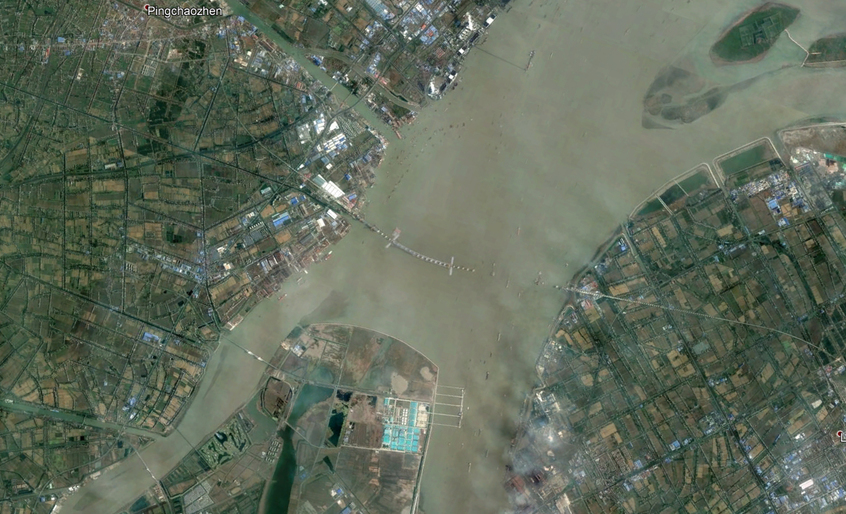 The progress of the bridge so far, as captured by Google Earth
The $1.7bn bridge, begun in 2014 and due to finish in 2019, will carry a four rail lines and a six-lane motorway between Shanghai and its northern neighbour across the Yangtze River.
According to the Xinhua news agency, the project was divided into two stages, with 3.3m poured in the first stage and another 5.7m in the second.
The crossing combines a cable-stayed bridge, to keep river navigation open, and a viaduct. The main span of the bridge is 1,092m, the world's largest for a cable-stayed railway-motorway bridge.
When complete, it will form the easternmost crossing of the Yangtze. At present, that distinction is held by a freight-only rail ferry about 30 km upstream; the closest passenger railway bridge is the Nanjing Yangtze River Bridge, which is more than 200 km upstream, so the link will be a major improvement in the city's communications. 
Top image: The cable-stayed span and the viaduct (YouTube)
Further Reading: