Estudio Herreros' Edvard Munch museum in Oslo is to the public on 22 October after a five-year construction period and a heated public debate on its design and location.
The 13-storey, 60m-tall building is located in Bjørvika, on the edge of Oslo's fjord. It will contain 26,300 sq m of space, including 11 exhibition halls, which the architect says "allows for wide variations in ceiling heights and room sizes, enabling optimum spaces to be allocated for both permanent and temporary exhibitions".
The tilting tower rises from a three-storey podium, and is clad in semi-transparent aluminium panels that give a corrugated appearance.
The museum will include works such as the 8m-long The Sun (1909) and several versions of The Scream, including an early study in pastel from 1893 and a version painted in 1910.
The opening exhibition is called The Loneliness of the Soul and will explore Edvard Munch's influence on UK artist Tracey Emin.
Other planned exhibitions are The Savage Eye, which will display works from Munch, Gauguin, Rodin and Strindberg, and Satyricon and Munch, soundtracked by Norwegian black metal band Satyricon.
The venue will also host concerts, literature readings and performance and art workshops.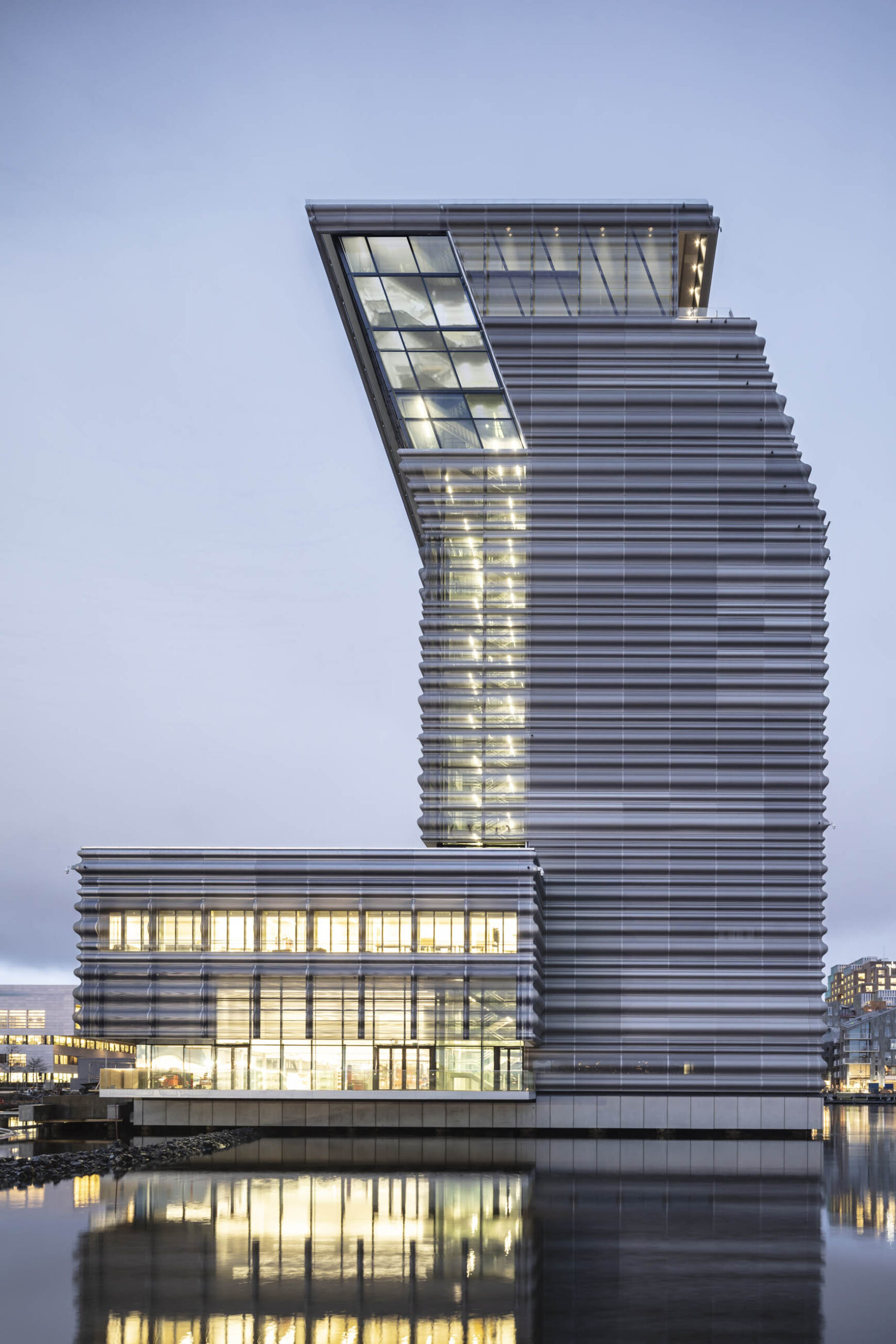 Estudio Herreros says the project meets "Passive House" standards, and also accords with Oslo's FutureBuilt criteria, which requires that buildings generate half as much carbon as a conventional structure with respect to transport, energy consumption and choice of materials.
This was achieved by using natural ventilation where possible, as well as low-carbon concrete and recycled steel; its loadbearing structure was designed with a technical lifetime of 200 years.
The original Munch museum was opened in the Tøyen district of central Oslo in 1963 on what would have been Munch's hundredth birthday.
Images courtesy of Estudio Herreros