Etihad Rail, the developer and operator of the UAE's national railway, has awarded $1.2bn of civil and rail engineering work to the China Railway Construction Corporation and Abu Dhabi based infrastructure company Ghantoot Transport & General Contracting.
The two will work on Packages B and C of the UAE's national railway network. Package B runs for 216km, and Package C runs for 94km, and the two are part of the 605km line from Ghuweifat on the western border with Saudi Arabia to the Port of Fujairah on the eastern border with Oman.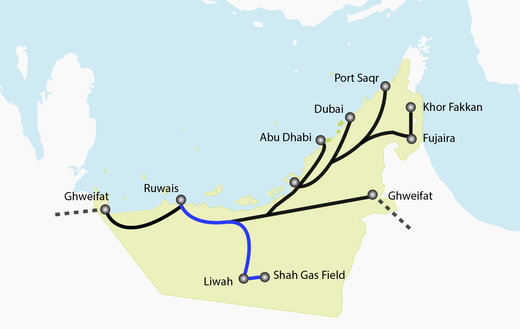 Phase 1 (in blue) and 2 (in black) of of the UAE's 1,200km network (GCR)
Shaikh Theyab, chairman of Etihad Rail, said the project was one of the most important in the UAE. He said: "Etihad Rail will sustain the growth of our transport industry and freight carriage sector throughout the UAE, as railway systems are one of the most important means of transport on which countries depend to achieve their economic and social objectives."
The two packages are part of the second stage of the UAE's $25b rail scheme, which was restarted in March last year after being mothballed in January 2016. They will link Khalifa Port, Khalifa Industrial City and Jebel Ali Port. The project will be part of the backbone of the UAE national railway network, upgrading the transport and shipping industry by connecting ports, factories and cities.
The scope of the project will include the design and construction of earthworks, bridges, tunnels, animal-crossings and track-laying.
Etihad Rail awarded the $408m Package A to a consortium of the China State Construction Engineering Corporation and South Korea's SK Engineering and Construction.
Top image: The full Etihad Rail network is expected to cost $25bn (Aecom)
Further reading: