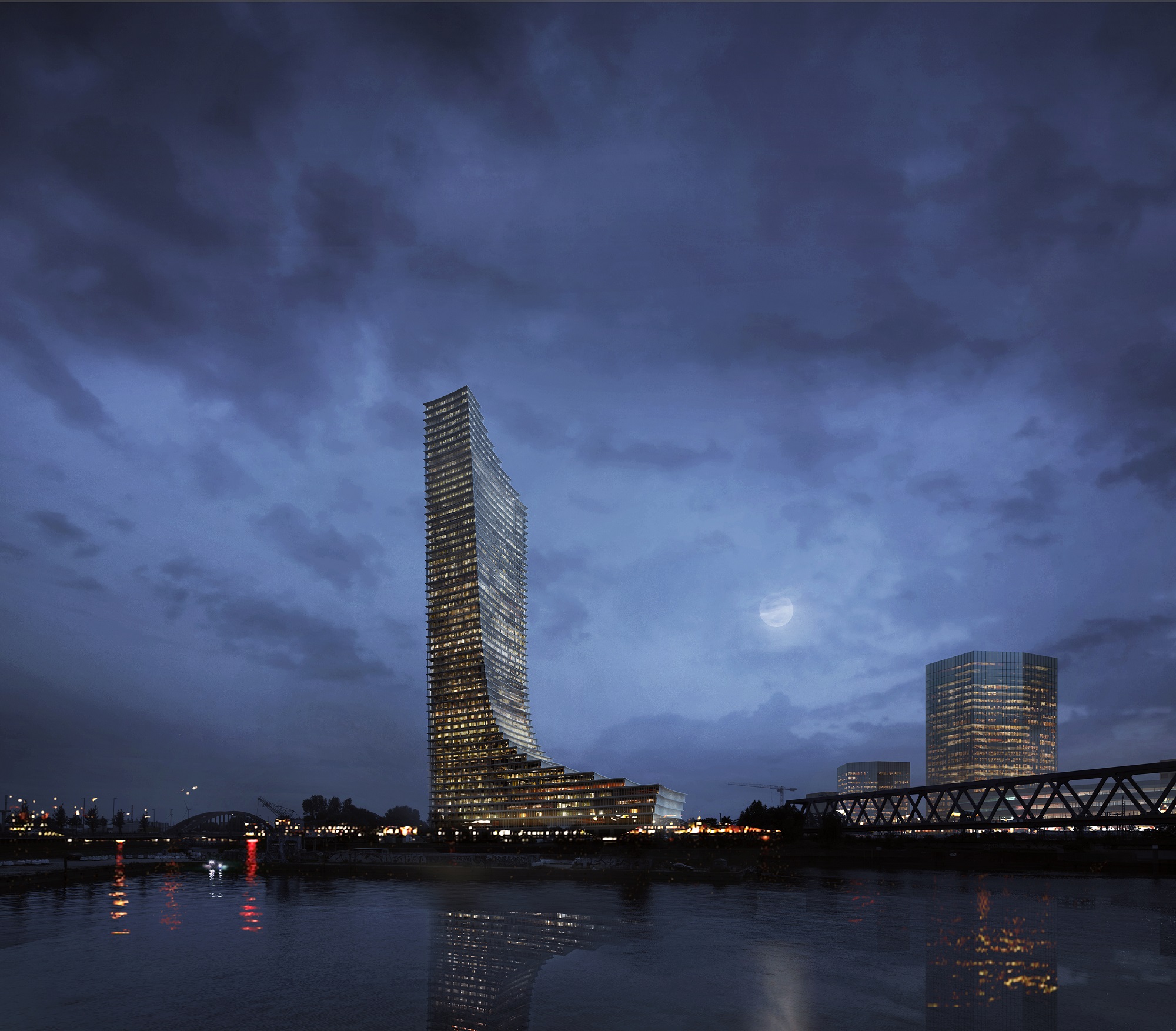 Fears are growing for the health of Germany's property sector after work stopped on one of the country's tallest buildings.
Designed by Christoph Felger of David Chipperfield Architects, the 254m Elbtower had been rising steadily in Hamburg but work stopped after Austrian developer Signa Real Estate missed interim payments.
The project is expected to cost €950m and, if completed, will be the third highest building in Germany after the Commerzbank Tower and the Messeturm (Trade Fair Tower) in Frankfurt.
Reuters reports that it had been making steady progress, with about half of its 64 storeys completed.
According to an executive at Lupp, the main contractor for the scheme, work was "temporarily suspended" after the developer missed payments.
The city of Hamburg and the property subsidiary of Germany's Commerzbank, a 25% investor in the scheme, confirmed that the work had stopped.
Peter Tschentscher, the mayor of Hamburg, told Der Spiegel that many private investors would suffer "great economic damage" if the project were to be abandoned.
"The city will not assume any financial burdens in this context, but will ensure that the contractual regulations are adhered to," the mayor said.
Commerzbank asset manager Commerz Real said it expected work to continue quickly. A spokesperson said Commerz Real was in talks with Lupp and Signa "in order to find a solution quickly".
He added: "We remain absolutely convinced the Elbtower is viable and assume that construction work can be resumed soon."
Signa Real Estate, owned by Austrian billionaire René Benko, has not responded to questions about the interruption.
The high-rise building is on the eastern edge of Hamburg's HafenCity, one of Europe's largest urban development projects.
The German property sector has been hit by rising interest rates, high inflation, and rising energy prices in the wake of Russia's invasion of Ukraine.
In September, major housing developer Vonovia froze construction of 60,000 homes.
One in five property companies said they had cancelled projects in August, while 11.9% were facing financing difficulties.
Tim-Oliver Müller, the chairman of the German Construction Federation, told the press: "Investors no longer know how to make certain projects profitable."