Five designs have been announced as finalists for a monument dedicated to the 9,000 affected Canada's "LGBT Purge" that took place between the 1950s and mid-1990s.
The purge involved systematic discrimination against, and harassment of, lesbian, gay, bisexual, and transgender members of the Canadian Armed Forces, the Royal Canadian Mounted Police (RCMP) and the Canadian federal services.
The monument will be located in Ottawa, at the intersection of Wellington Street and Portage Bridge near the federal parliament building.
Team Durling: Dutch architect MVRDV and Canada's Fathom Studio and Two Row Architect. The design is called "The Lens", a circular structure in the centre of a park
Team MASS Design Group: Boston's MASS Design Group and Canadian artist Stephen Andrews are proposing a circular sunken garden surrounded by a curtain of water
Team OnCommon Ground: Canada's WSP, BBB architects, artist Nadia Myre and California's PWP Landscape Architects, who have proposed a sculpture and light installation
Team SOM: Chicago'sSkidmore, Owings & Merrill, with Canada's HTFC Planning and Design and artists Noam Gonick and Rebecca Belmore, who have designed a collection of steel poles with a common centre
Team Wreford: Architect Public City, artists Shawna Dempsey and Lorri Millan and indigenous adviser Albert McLeod, all from Winnipeg, have proposed a performance space called the Thunderhead.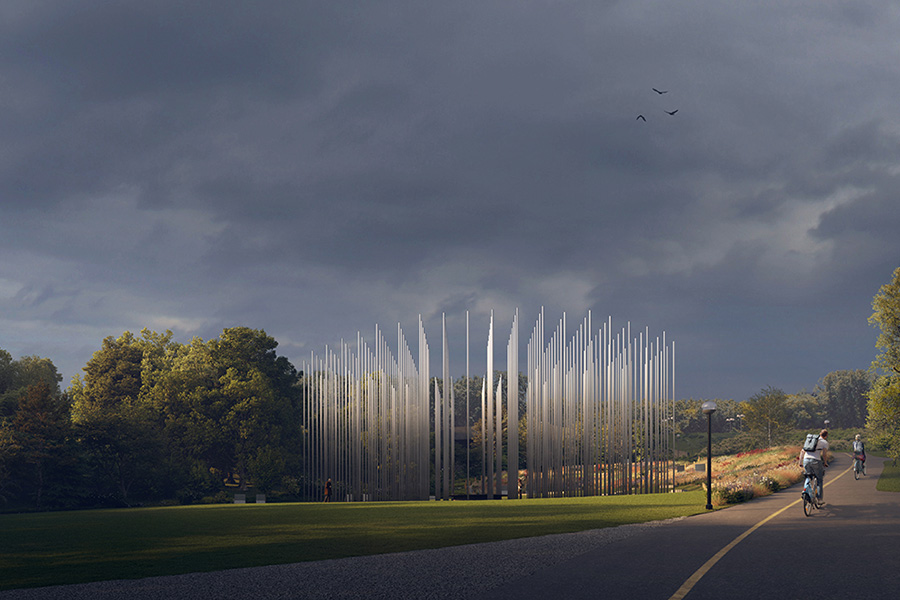 Votes for the winner can be submitted here.
The monument is due to be completed by 2025. The US$6.3m project is funded by the LGBT Purge Fund, which was set up in 2018 following a lawsuit against the Canadian government.
Bardish Chagger, Canada's minister of diversity, inclusion and youth, said: "We must recognise and acknowledge the disgraceful period in Canadian history known as the LGBT Purge.
"While much work remains to be done to ensure that LGBT individuals can participate fully in all aspects of society, this monument acknowledges the progress we have made."