A new Apple store, designed by UK architect Foster + Partners and located in the world's largest mall in Dubai, will contain a piece of kinetic art called "Solar Wings".
Described as a celebration of the sun and a reinterpretation of Mashrabiya, traditional Arabic wooden latticed windows, the artwork will shade the outside terrace during the day and open during the evening to reveal the view of the waterside promenade and fountains.
Made entirely of lightweight carbon fibre, each wing has multiple layers of tubes forming a dense net.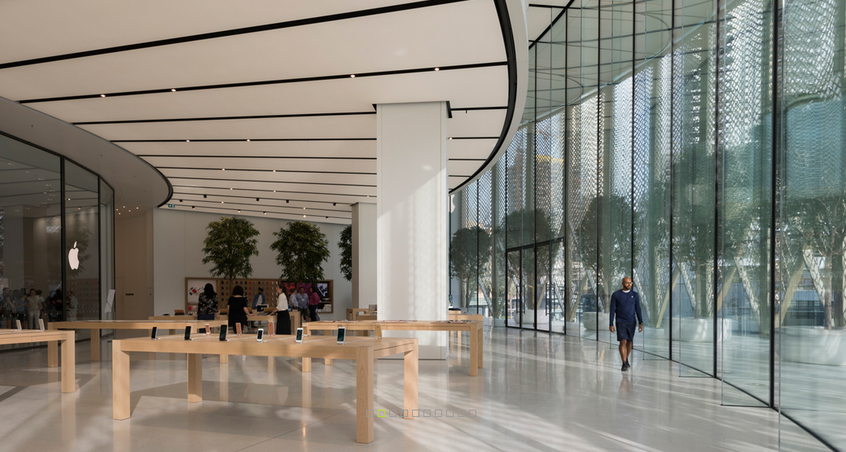 Following an in-depth study of sun angles, the rods have been distributed in higher concentration where the solar radiation is most intense over the year.
The unique pattern allows clear views out for people standing on both levels of the store and the sunlight streaming through the wings casts dappled shadows deep into the interior.
Foster + Partners say the Apple store occupies the "most pivotal position in the city, alongside the iconic Burj Khalifa and overlooking the famous Dubai Fountains".
Stefan Behling, head of studio at Foster + Partners, said : "The design of Apple Dubai Mall is about creating an exceptional architectural and social experience for visitors, bringing to the fore new ideas about the evolving role of Apple Flagships in the community. I am sure Apple Dubai Mall will become a true people's place."
The Dubai Mall is one of the most visited urban centres in the world, attracting over 80 million visitors each year since 2014.
Foster + Partners has previously worked with Apple on a $5bn Cupertino campus and an Apple store in San Francisco which will act as "a model for its future projects around the world".
Images courtesy of Foster + Partners