Technology giant Apple has opened its first retail outlet in Singapore, designed by UK architect Foster + Partners.
According to the architect, Apple Orchard Road will "blur the boundaries between inside and outside" and is inspired by the "origins of Orchard Road, when nutmeg and fruit orchards dominated the site".
The store will be fully run on renewable energy.
The store will contain a public space with eight mature trees that create a "green orchard" and provide a meeting place amid the dense urban environment.
Foster + Partners says the 36.5m-wide glazed storefront "dematerialises the building's facade" and a thin, white canopy cantilevering out 7.6m draws "the eye towards the interior, while providing shelter from Singapore's equatorial climate".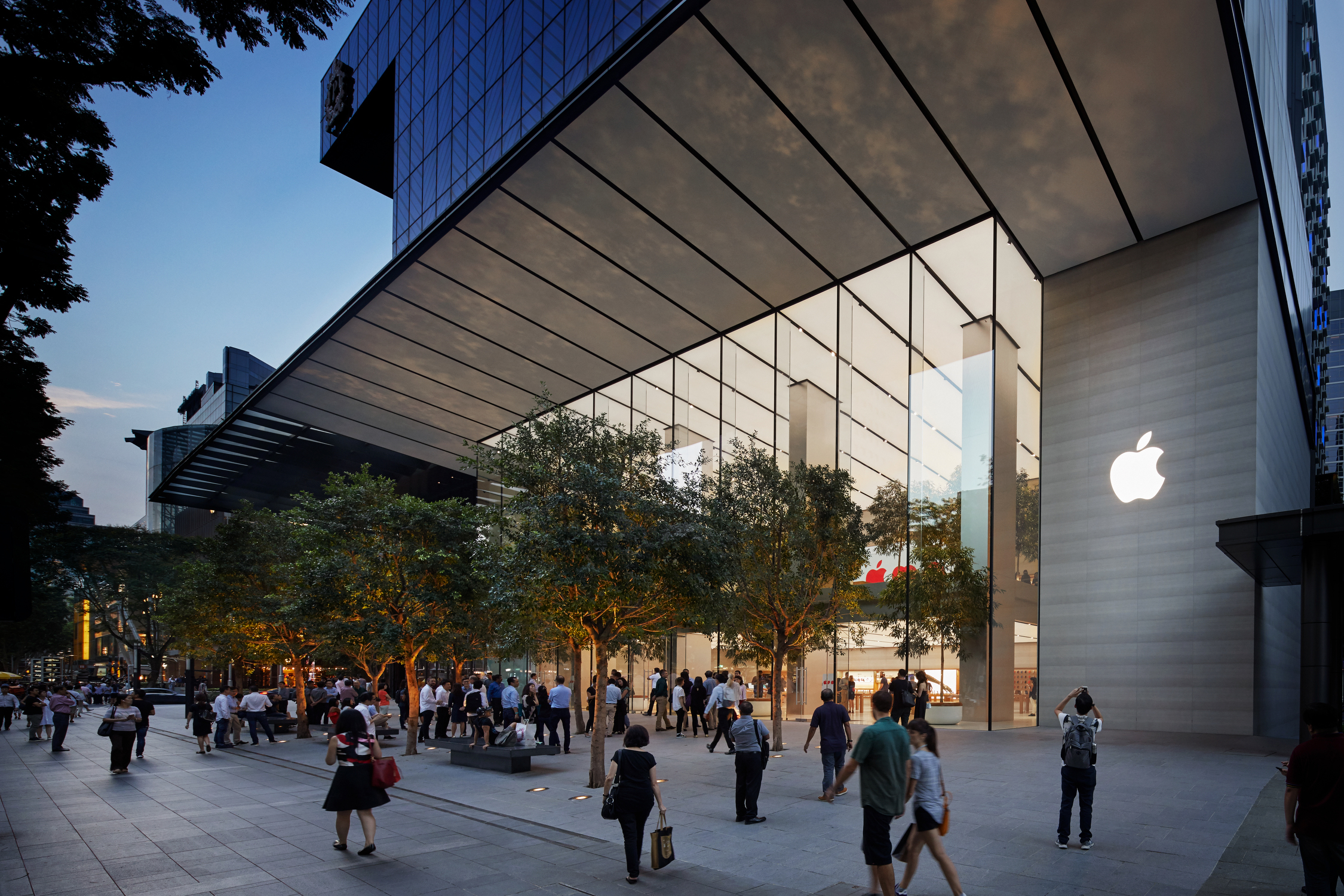 Large stone walls to either side of the interior have two curved staircases, hand-carved by Italian artisans from Castagna stone, creating "sculpted bookends to the grand space inside". Meanwhile, 12 fig trees will "enrich the temperature, the smell and the aural qualities of the space".
The store also contains "the Forum" which houses Apple's widest video screen in the world and is described as a "gathering place where creative professionals and experts from photography, music, app development and art will educate, inspire and entertain".
Stefan Behling, head of studio at Foster + Partners, said: "This is one of our greenest Apple spaces yet – not only does all the energy come from renewable sources, but it is filled with lush trees.
"It also breaks down the boundaries between the inside and outside, with the greenery cascading through the store from the mezzanine to the ground floor and out to onto Orchard Road, creating the most welcoming civic gesture."
Foster + Partners has previously worked with Apple on stores in San Francisco and Dubai as well as Apples's 175-acre campus in Cupertino.
Images courtesy of Apple