A long-awaited plan by US giant General Electric (GE) to rehabilitate Nigeria's moribund narrow-gauge railways has finally creaked into motion.
An international consortium led by GE, and including China's Sinohydro, will get started on repairing some of the network and will supply 10 locomotives in an "interim phase" of the expected full concession that was first mooted two years ago.
Most of Nigeria's railways are narrow-gauge, and are derelict.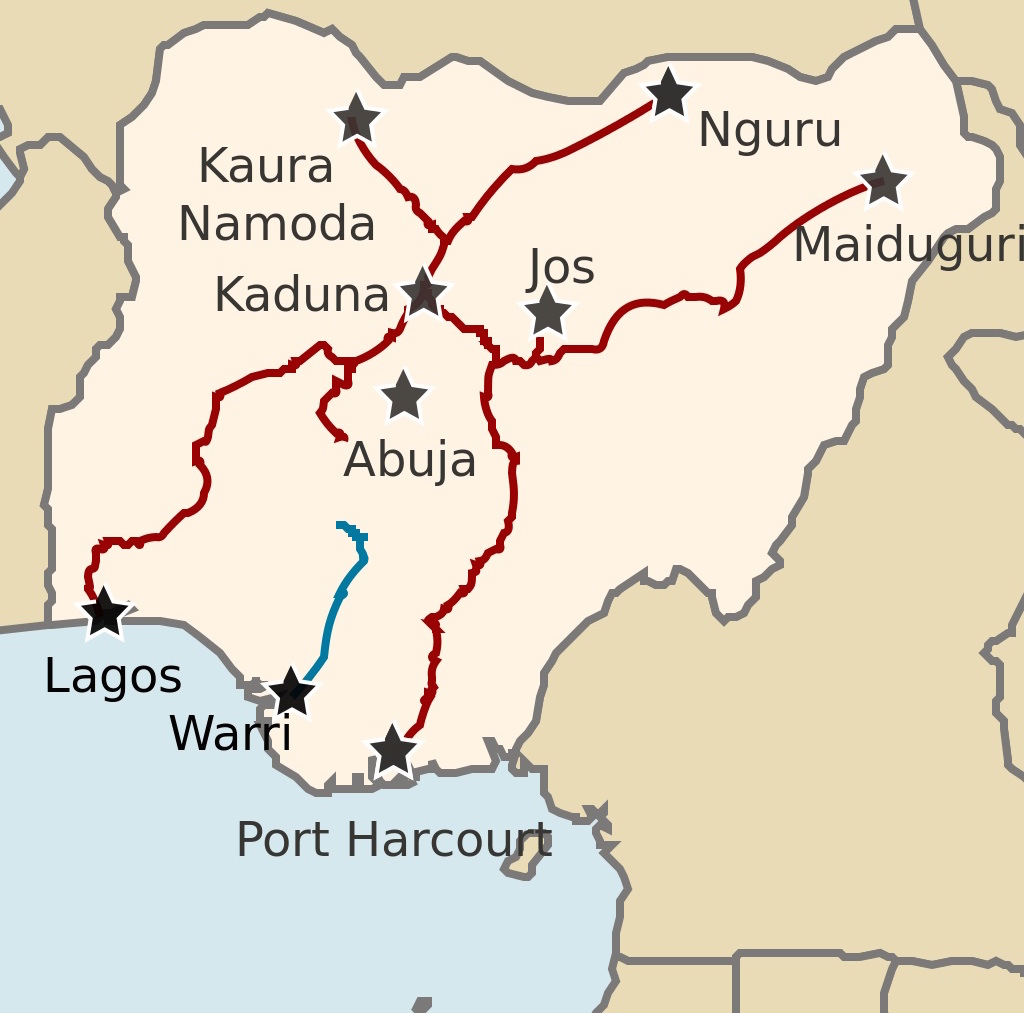 Most of Nigeria's approximately 4,000-km rail network is narrow-gauge (shown in red), built before 1930 (Wikimedia Commons)
After signing the agreement in Washington, DC, Nigeria's transportation minister said the scheme would have "almost incalculable socio-economic benefits" for towns and villages along the dilapidated lines, local media reported on 30 April.
GE, which makes locomotives, is joined in the consortium by China's Sinohydro, a giant dam and infrastructure builder, Transnet, South Africa's state-owned rail and ports operator, and APM Terminals, the Netherlands-headquartered landside terminal operator.
The interim phase of the concession sees the consortium carrying out remedial works on some of the narrow-gauge rail network to make it operable.
The consortium will also supply the Nigeria Railway Corporation (NRC) with an initial batch of rolling stock, amounting to 10 locomotives and 200 wagons.
For a number of years GE and Transnet have collaborated in the manufacture of narrow-gauge locomotives for Africa (pictured), with production taking place at Transnet's factory in Koedoespoort, Pretoria.
Most of Nigeria's approximately 4,000-km rail network is narrow-gauge (1,067mm), built by the British colonial administrations before 1930. Two main corridors run roughly northeast from the coastal cities of Lagos and Port Harcourt.
Long-term neglect after independence led to the demise of this once-active network. In 1964, rail carried 11,288,000 passengers and 2,960,000 tonnes of freight, according to official statistics, but now the derelict tracks carry next to nothing.
In 2016 GE expressed its interest in getting the concession to revamp and manage the entire network.
The cost of the rehabilitation has been estimated at $2.7bn. GE has said the cash would come from banks, consortium partners and co-developers.
By March 2017 it was reported that the GE consortium was the only bidder for the concession. It was formally named preferred bidder two months later, in May.
Signatories to the deal hope to boost freight haulage capacity tenfold, from less than 50,000 metric tonnes a year to 500,000 tonnes by the end of the first year of the interim phase.
"GE is committed to the sustainable development of Nigeria and as such we are delighted to have reached this crucial stage of the project to revamp and revitalise the country's legacy rail infrastructure system," said the CEO of GE Nigeria, Lazarus Angbazo.
The next step for the consortium is to conclude negotiations with the Nigerian government on the terms of the full concession to rehabilitate the whole narrow-gauge network, seen as necessary for Nigeria's socio-economic development.
Up to 200 new locomotives are expected to be supplied for that phase.
Nigeria's transportation minister Rotimi Amaechi said the initiative would add "immense value to Nigeria's long term economic growth and productivity".
"This will be an important catalyst for small and medium enterprises and a key provider of almost incalculable socio-economic benefits for the many Nigerian towns and villages through which the rail network passes," he added.
Top image: A narrow-gauge locomotive of the South African Class 44-000, built in a collaboration between GE and South African rail operator, Transnet (Col André Kritzinger/Wikimedia Commons)
Further Reading: