Los Angeles developer Urban Commons and San Francisco architect Gensler have unveiled the first renderings for a $250m entertainment complex at Long Beach, California, whose proceeds will go to keeping the Queen Mary ocean liner financially afloat.
The "Queen Mary Island" project aims to bring together 65,000 square metres of retail space and a 200-room hotel, together with a boardwalk, marina, and a public amphitheatre.
There will also be a 14,000 square metres of attraction to be developed by London-based entertainment company Urban Legacies. That may include an ice climbing wall and an indoor sky-diving simulator.
Urban Commons submitted its plans to Long Beach authorities last week. The company, which took over the Queen Mary on a 66-year lease last year, hopes the scheme will boost revenue and enable it to carry out urgent repair work on the rusting liner.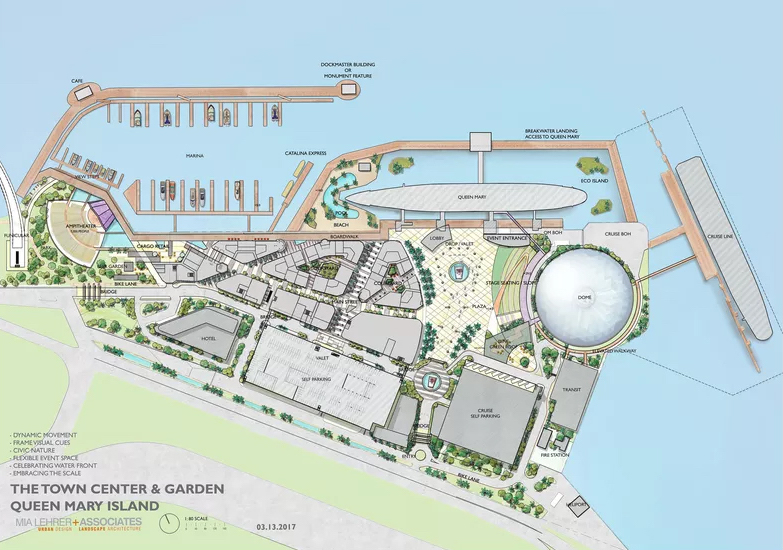 The city has never succeeded in completing the Queen Mary scheme (Gensler)
Taylor Woods, the principal of Urban Commons, said in a press statement: "Queen Mary Island will hold something for everyone whether that is adrenaline-inducing activities or simply enjoying live entertainment and dinner near the waterfront."
Ever since the Queen Mary was moored in Long Beach in 1967, the city has planned to make it part of a larger attraction by developing a swath of car park and vacant land beside its dock. Among the companies to make the attempt was Walt Disney, which has plans to make the line the centrepiece of a $3bn nautical amusement park.
Other ideas have included building a science fiction museum and condominiums.
Top image: The new lease will give the developer more freedom to develop (Gensler)