Athens-based Consolidated Contractors (CCC), has developed what it calls the world's first fully solar powered, 24-hour off-grid site hut.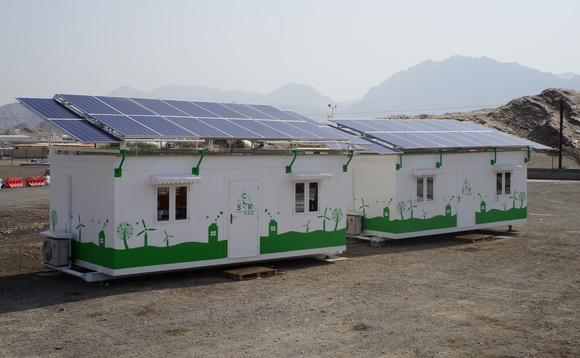 Image courtesy of CCC
The cabin, which contains an office and living accommodation, can meet day and night energy needs while maintaining a constant temperature of 25°C, as long as it receives six hours of direct sunlight a day.
Daytime power is supplied by solar panels, and excess energy is stored in batteries for use at night.
CCC says the cabin can be monitored and adjusted online from anywhere in the world.
Aref Boualwan, in charge of CCC's management information systems, said: "Most of our personnel are positioned on sites across the Middle East and North Africa, where average temperatures are always high.
"For this project, we wanted to focus on off-grid renewable energy systems for our workers day and night, which are the most appropriate due to geographical constraints and costs for grid extension."
CCC partnered with German energy storage experts Tesvolt on the project, and Boualwan said the energy system was designed, engineered, constructed, tested and commissioned according to the latest codes and standards of the International Electrotechnical Commission.