The construction of Fehmarn Belt, an 18km-long tunnel between Denmark and Germany, took a step closer yesterday after the Danish parliament voted to proceed with the scheme.
Femern A/S, the consortium that will build it, will now begin negotiating contracts to allow the first phase of the work to begin in the autumn of this year.
Ole Birk Olesen, Denmark's transport and housing minister, said after the vote: "The time is now ripe to start the tunnel. I'm happy to announce that we have decided to start work on the Danish side."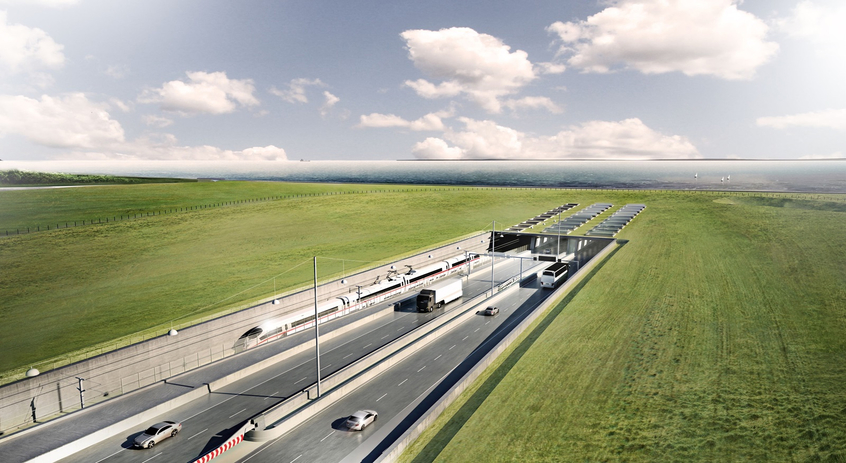 A rendering of the tunnel entrance (Femern A/S)
When the tunnel opens – in 2028 if all goes according to plan – it will replace a ferry link between Rødbyhavn and Puttgarden, thereby cutting two hours from the 4h 40m needed to travel by rail between Copenhagen and Hamburg and one hour from the 5h 40m required by road.
It will be the longest immersed tunnel – that is, one constructed by digging a trench in shallow water rather than boring a shaft – ever built.
The first stage will be the construction of a plant in Rødbyhavn on the southeast island of Lolland to produce the 89 sections of the tunnel, erect living and administration facilities for workers, and order specialist construction machinery such as the equipment needed to dredge the tunnel's trench.
Claus Baunkjær, the chief executive of Femern A/S, commented: "Now we embark on a new chapter of the Fehmarnbelt Fixed Link project. The implementation of a number of major construction activities will make best use of the time and ensure progress in the project. This is a very important step."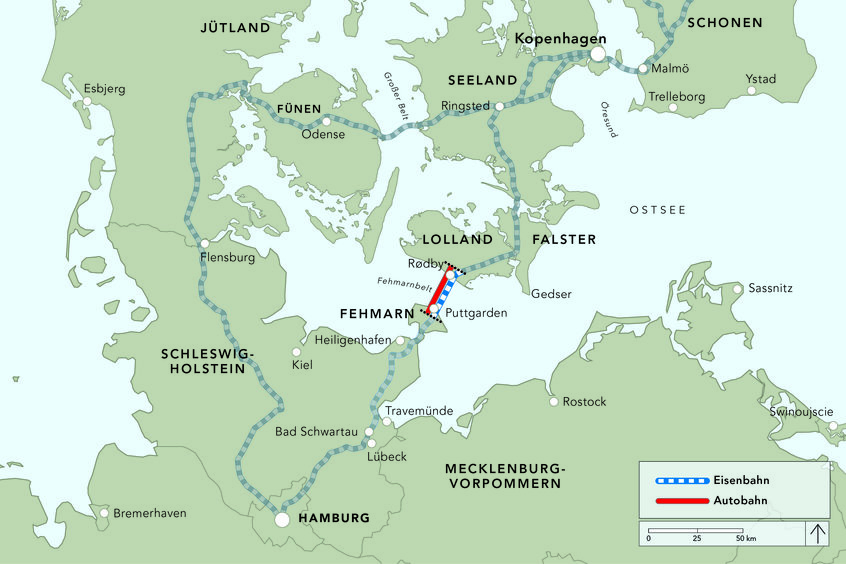 The route of the Fehmarn Belt (Femern A/S)
The project is expected to cost  €7.4bn, €590m of which is to come from the EU. The companies making up Femern A/S are:
Vinci Construction Grands Projets (France)
Per Aarsleff (Denmark)
Wayss & Freytag Ingenieurbau (Germany)
Max Bögl Stiftung (Germany)
CFE (Belgium)
Solétance-Bachy International (France)
BAM Infra (Netherlands)
BAM International (Netherlands)
The plan may be brought before the German Federal Administrative Court, but any legal proceedings will not delay the beginning of construction works on the Danish side.
Top image: The ferry terminals of Rødbyhavn, which may become obsolete (Scandlines/CC BY-SA 3.0)
Further reading: