Weighing 45 tonnes and measuring 43.6m in length, the King Khufu Solar Boat is considered to be the oldest intact ship in the world. From around 2500BC it lay entombed in a chamber carved out of rock at the foot of the Great Pyramid of Giza – presumably to carry the pharaoh Khufu with sun god Ra to the afterlife – until it was discovered in pieces in 1954.
It was reassembled and placed in its own museum at the site in 1985, but in a three-day operation earlier this month, the joint venture building the Grand Egyptian Museum, comprising Belgium's Besix and Egypt's Orascom Construction, successfully orchestrated the ship's latest voyage: an extremely delicate, 8.5km trundle to the new museum, where it was craned into its new dedicated building through the roof.

Planned for six months, and assisted by heavy-lift specialist Sarens, the operation started on 5 August with the careful extraction of the ship on a self-propelled modular transporter (SPMT) and its precision placement in a made-to-measure, 60-tonne steel box.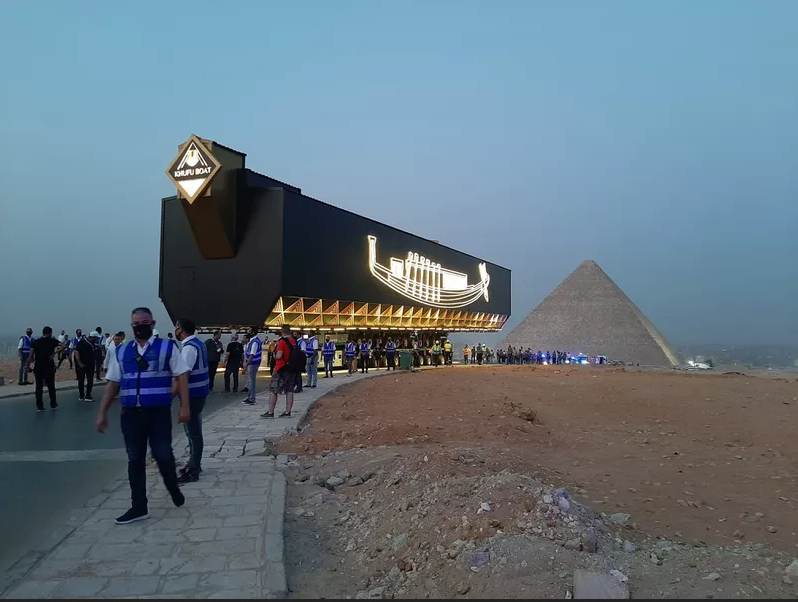 The ship makes the 8.5km journey to its new home at 1km/h (Courtesy of Besix)
The next day, the ship began rolling on the SPMT at a speed of 1km/h, following a winding route picked to ensure stable ground and avoid archeologically sensitive areas.

On 7 August, it arrived at the Grand Egyptian Museum complex under construction on the Giza Plateau, where an 800-tonne crawler crane lifted the box to a height of 30m before lowing it into position through the roof of the new building.

Besix deputy chief executive Pierre Sironval praised the Egyptian authorities for their "confidence, their professionalism and their remarkably efficient collaboration with the joint venture. "This will be a major museum jewel for the world to which we have just added a fantastic additional piece, the world's oldest intact ship," he said.

Orascom Construction chief executive Osama Bishai said teams worked around the clock "to guarantee excellence in execution".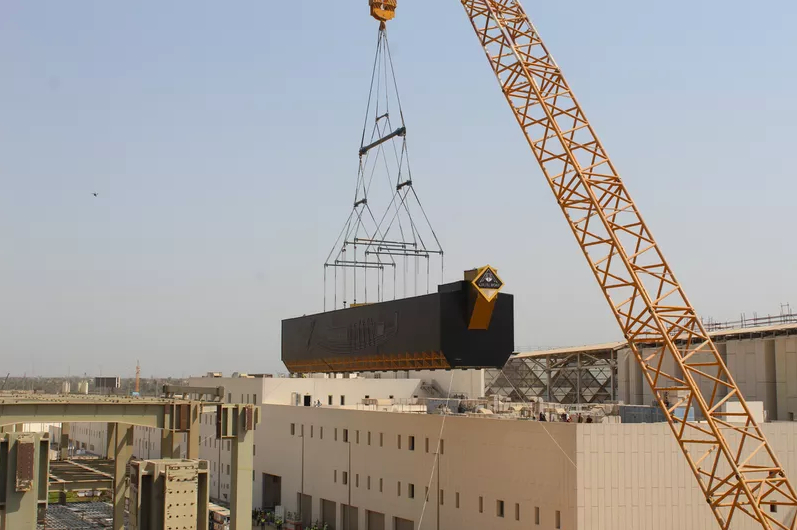 An 800-tonne crawler crane lifted the box to a height of 30m before lowing it into position through the roof of the new building (Courtesy of Besix)
Working for Egypt's Ministry of State for Antiquities, Besix and Orascom Construction are leading the construction of the 490,000-sq-m Grand Egyptian Museum, claimed to be the world's largest museum dedicated to a single civilisation, and one of the largest complexes built in Egypt since the pyramids themselves.

Work on the Grand Egyptian Museum – one of the most ambitious and complex museum projects ever undertaken – began in 2005, and is nearing completion after being delayed multiple times, including by political upheaval in the country following the Arab Spring of 2011.

Top image: The King Khufu Solar Boat in its old museum at the Great Pyramid of Giza (Olaf Tausch/CC BY-SA 3.0)

Further reading: