One of the companies racing to commercialise the futuristic ultra-fast Hyperloop tube travel approach has begun building the first full-scale test system in France.
Hyperloop Transportation Technologies (HyperloopTT) made the announcement yesterday after taking delivery of sections of full-sized tubes at its research and development facility in Toulouse.
With an interior diameter of 4m the tubes can carry passenger capsules and shipping containers.
The Hyperloop vision, first articulated by entrepreneur Elon Musk, sees magnetically levitated vehicles whizzing along tubes in a partial vacuum at 700 miles per hour, nearly the speed of sound.
HyperloopTT's 320-meter, full-scale test system will be operational this year, the company said.
A second full-scale system of 1 km, elevated by pylons at a height of 5.8 meters, will be completed in 2019.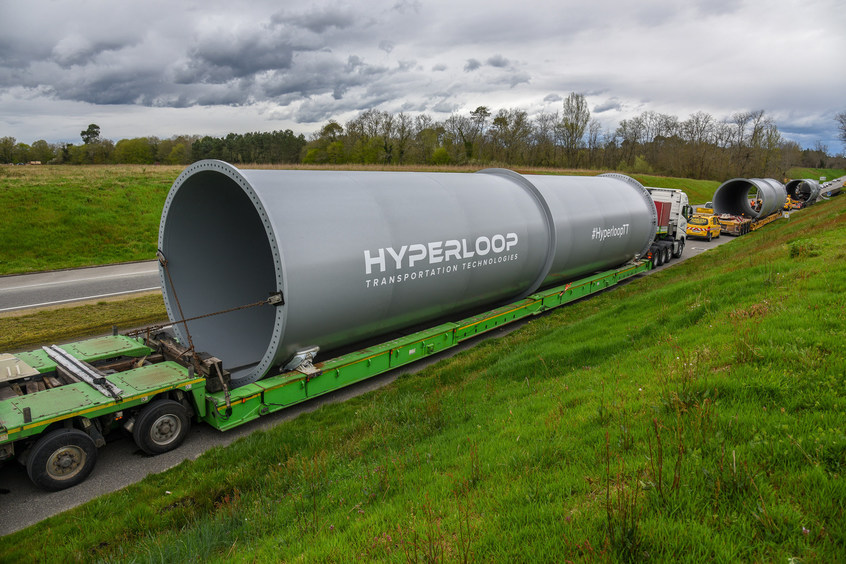 Full-scale Hyperloop tubes arrive in HypleroopTT's Toulouse R&D Centre on 12 April 2018 (HyperloopTT)
In addition, a full-scale passenger capsule, currently near completion at Carbures in Spain, is scheduled for delivery to the facility this summer for assembly and integration.
"Five years ago we set out to solve transportation's most pressing problems; efficiency, comfort and speed. Today we take an important step forward to begin to achieve that goal," said HyperloopTT CEO Dirk Ahlborn.
"Building in full-scale means we're committed to innovation in the long-term," said Bibop Gresta, HyperloopTT Chairman.
"We've pioneered the technology, proved feasible and insurable by the world's largest reinsurance company, Munich RE. We have agreements in place in nine countries where we're working on feasibility and regulations. We have a research centre for freight and logistics in Brazil and a facility in Toulouse where we'll deliver the first full-scale passenger capsule. Hyperloop is no longer a concept, it has become a commercial industry."
Founded in 2013, HyperloopTT is made up of more than 800 engineers in 52 multidisciplinary teams, with 40 corporate and university partners. It is based in Los Angeles and has branch offices in Abu Dhabi and Dubai, Bratislava, Toulouse, Contagem in Brazil and Barcelona. HyperloopTT has signed agreements in the United States, Slovakia, Abu Dhabi, the Czech Republic, France, India, Indonesia, Brazil and Korea.
The other main company pursuing commercial applications of Hyperloop is Richard Branson's Virgin Hyperloop One, which in February signed an agreement with the Indian state of Maharashtra to develop a line between the cities of Pune and Mumbai.
It has already built a 500m track with a diameter of 3.3m in the Nevada desert.
Top image: With an interior diameter of 4m, the tubes can carry passenger capsules and shipping containers (HyperloopTT)