Work on a brand new capital city for Indonesia on the island of Borneo has been put on hold while the country deals with the fallout from the coronavirus pandemic, according to the man in charge of overseeing its masterplan.
Suharso Monoarfa, the country's minister for national development planning, told the Reuters news agency yesterday: "We're putting as our number one priority the recovery of the economy and overcoming the pandemic. When the situation improves, only then will we decide what we will do."
The plan to move the capital, which was to have begun next year, will now probably be delayed until 2022 or 2023. Among the new-capital projects delayed will be the construction of a state palace, which was due to begin next year, along with upgrades of airports, harbours and access roads.
Altogether, the cost of the project has been put at somewhere between $33bn and $48bn.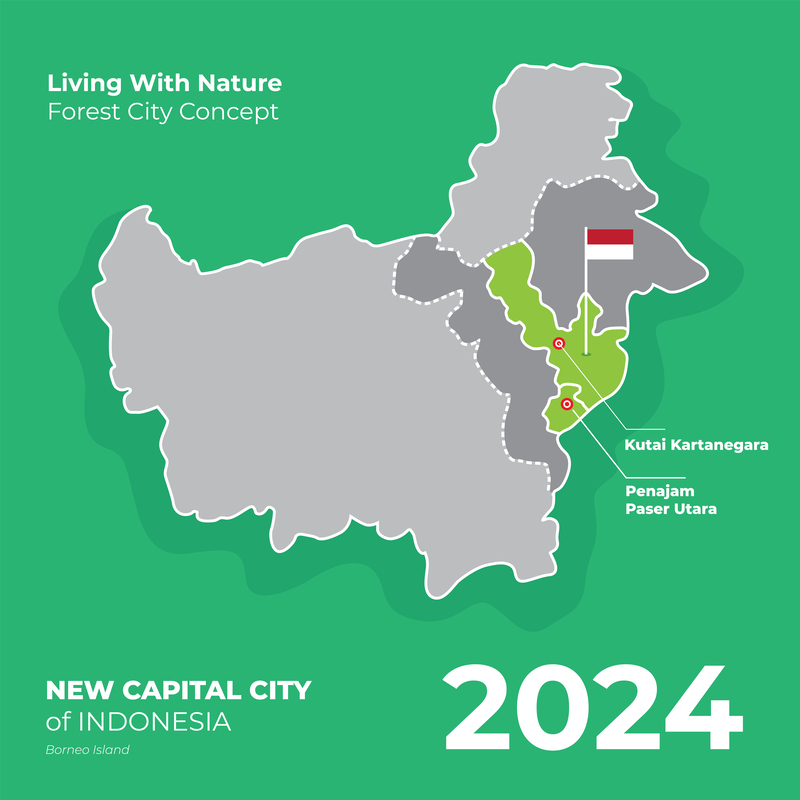 A graphic showing the location of Indonesia's "Forest City" in Borneo's East Kalimantan province (Dreamstime)
A number of countries have offered to help with the immense scheme, including Japan and the United Arab Emirates (see further reading).
Indonesia's GDP contracted by 5.3% in the second quarter compared with a year ago, according to data from Statistics Indonesia.
London-based bank HSBC said the contraction was in line with its expectations. However, it told the Al Jazeera news organisation: "This should not detract from the immense socioeconomic damage caused by the virus, which risks leaving long-term scars."
According to World Health Organisation figures, 143,000 people have been infected by the coronavirus in Indonesia, leading to 6,277 deaths. Â 
Image: The new capital was proposed as an escape from the urban stew of Jakarta (Dreamstime)
Further reading: