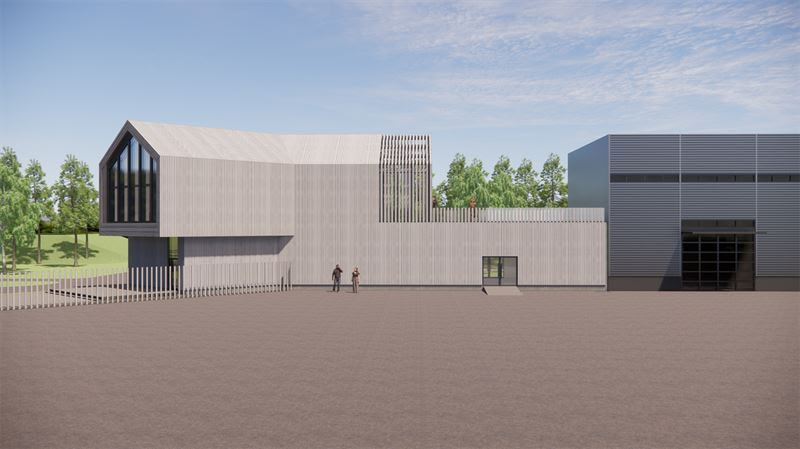 In an EU scheme inspired by clever forest-dwelling giants, Finland's VTT Technical Research Centre will construct a 500-sq-m demonstration building made of novel wood-based materials and components to showcase the benefits of timber in rural and urban development.
Designed by Dutch architects UNStudio, the building will have wood thermal insulation materials, structural insulation panels (SIPs) and wood-plastic composites, among other components.
It will be located beside VTT's premises in Jyväskylä, and will have a combined meeting and exhibition space and two warehouses when completed next year.
It is one of two demonstration buildings going up under the €12.2m Basajaun EU project, begun in 2019 to promote timber as a mainstream building material; the other building is in France. The EU contributed €10m.
Its name comes from Basque mythology, in which Basajauns were huge, forest dwelling hominids who built prehistoric structures and taught humans agriculture, ironworking and other skills.
"Engineered wood products can make a large contribution to transforming the construction sector from a source of carbon into a sink," VTT said.
UNStudio architect Alejandro Sanchez Pena said: "This experimental building relates the traditional wooden architecture from Finland to the future of construction in wood through a mindful design and carefully crafted details. The construction systems designed for the project are modular, and materials developed in the Basajaun consortium are sustainable and bio-based."
Materials and components for the Finnish building are coming from Grupo Garnica Plywood S.A. (Spain), Moelven Töreboda AB (Sweden), Focchi Spa (Italy), Soprema (France), Omikron-Dokk Kft (Hungary), Elastopoli Oy (Finland) and Irurena SA (Spain).
As well as promoting timber, the Basajaun EU project explores the "complete digitalisation of the forest-to-building-chain".
VTT senior scientist Petri Jetsu said the research organisation will monitor the performance of the building for several years.
The Basajaun EU project comprises 29 partners from 12 countries, including research organisations, universities, companies and three other public and sectoral organisations. It is coordinated by the Tecnalia Research and Innovation Foundation.