2 April 2014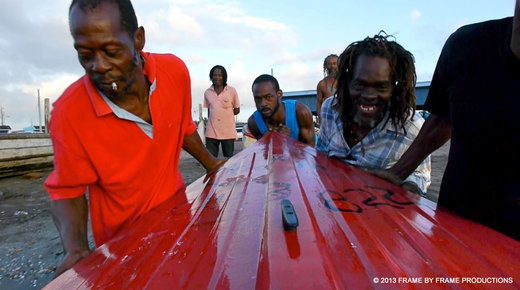 Fishermen in the Goat Islands area (Savegoatislands.org)
The Jamaican government has signed a framework agreement with China Harbour Engineering Company (CHEC) for the construction of a large but controversial transshipment hub on protected islands off its south coast.
The proposed development, valued at $1.5bn, would entail dredging and the construction of a port complex capable of accommodating so-called Super Post Panamax vessels, ships too big for the Panama Canal.
An industrial park, container terminal and a coal-fired power station are also proposed in a scheme the government says will create 2,000 jobs during construction and 10,000 jobs in the operating phase.
But environmental groups oppose the scheme, to be developed in the Portland Bight Protected Area, also known as Goat Islands. They say the development would destroy coral reefs and endanger the habitats of several rare, threatened, or endangered species.
The United Nations has also written to the Jamaican government to urge that the islands be protected and a more sustainable development path be pursued.
So far, however, the government stands behind the scheme.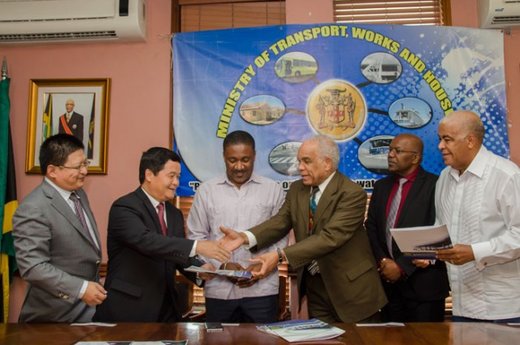 Jamaica's transport minister Omar Davies, fourth left, presents the MOU to Chinese ambassador in Jamaica, Xiaojun Dong, second left, on March 28. Also present were general manager of CHEC, Zhongdong Tang and various Jamaican ministers
"After all the required studies are carried out, including the environmental assessment, this project will be going ahead," said transport minister Omar Davies at the signing of the framework agreement, as reported by Jamaica's state information service.
"We treasure the preservation of the environment, as much as any other group, and we are concerned about the human beings and the plight of poverty, and the impact which that has on the environment," he added.
CHEC is a global contractor with 50 overseas branches and is a subsidiary of China Communications Construction Co Ltd (CCCC).