East Japan Railway Company (JR East) is planning to introduce self-driving shinkansen "bullet" trains, amid similar plans in France and China.
The move is part of Japan's efforts to prepare for an expected mass retirement of drivers who trained in the 1980s, and a shortage of new recruits.
The expected lack of staff is owing to the country's birth rate, which at 8.23 per 1,000 is the lowest in the world, with the exception of micro-states such as Singapore and Monaco.
Although driverless trains are common on low-speed urban systems such as Tokyo's Yurikamome Line (pictured), none has yet been introduced on a high-speed intercity line.
JR East is planning to run trains with only a conductor on board to manage emergencies, according to reports in Japanese media.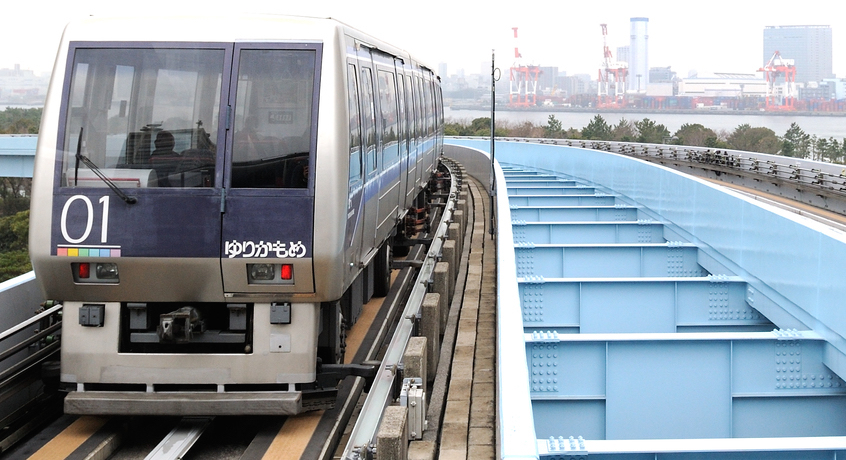 Driverless trains are already used on slower, urban lines, such as the Yurikamome line in Tokyo (Tim Adams/Creative Commons)
In the second phase, the only crew on board will be those serving refreshments.
One of the main barriers to overcome is safety, particularly at level crossings.
The removal of the driver may require extensive alteration to existing lines, such as constructing elevated tracks, installing floor-to-ceiling platform barriers and fitting the train with sensors so it can automatically detect obstacles on the line outside the train, and unusual noises and smells inside.
JR East plans to introduce the system on the Yamanote Line, a circle line that runs through Tokyo, as well as the 575km Tohoku Line that connects the capital with Fukushima and Sendai, and which consists mainly of elevated track.
There is also a plan to introduce the system to loss-making local lines, say reports.
The maglev Shinkansen line, currently under construction by Central Japan Railways, will also be driverless.
Other national rail systems have announced plans to make intercity trains autonomous.
France's SNCF has set a target date of 2023, with trials to begin next year, and China is hoping to  introduce them on the Beijing-Zhangjiakou line, under construction for the 2022 Winter Olympics.
Top image: The Yuricamome (black-headed gull) line in Tokyo (NASA)
Further reading: