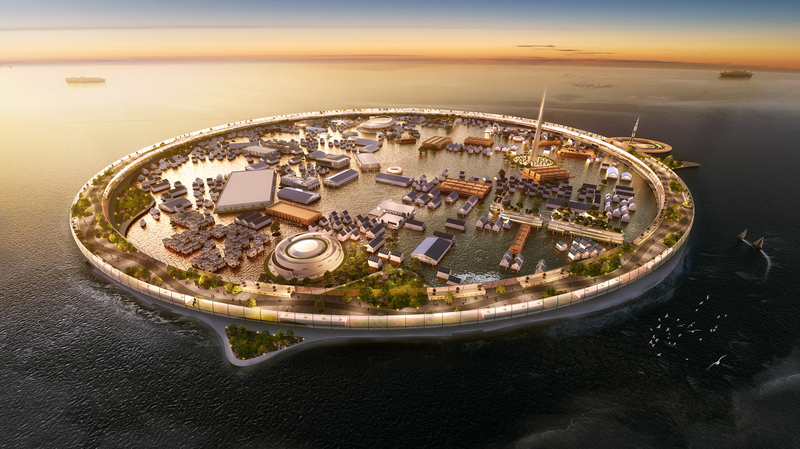 Japanese startup N-Ark has announced plans to build a futuristic floating city built on sea-cooled data centres and cutting-edge medical care, and has launched a consortium to realise its vision.
The firm describes its "Dogen City" concept as a response to climate change and population growth. It hopes the idea will be pursued by a team drawn from industry, academia, and government.
The groundwork for the floating city is being laid at Hamamatsu City, a port about 200km southwest of Tokyo. Here N-Ark has worked with the city government, the Hamana Fisheries Cooperative Association, and construction group Shimizu to demonstrate floating technologies.
This will culminate in a "green ocean" demonstration machine, to be built in conjunction with the Lake Hamana Flower Expo in March next year.
The firm argues that the effect of climate change requires the development of the ocean as a new economic area. It says that to do this, it is necessary to create three industries: a "maritime city with functions to adapt to climate change", a "constellation" of underwater data centres, and a tourism industry that "connects the space, the sea and the ground".
The Dogen City element of this triad would be circular in form, with a circumference of around 4km. This would give enough space to accommodate some 10,000 people. The floats would be ballasted by data centres that would run the city's operating system and carry out high-value tasks such as healthcare data analytics and pharmaceutical research.
The inner rings would be relatively sheltered, and would offer the usual elements of a land-based city, such as schools, parks, hotels, and offices.
Altogether, the city's infrastructure would be able to produce 2 million litres of drinking water, 7,000 tons of food, and enough solar panels to power the city's systems and server farms.
N-Ark describes the concept as a "medical city on the sea". Its computers will analyse residents' genomes, blood, and bodily performance to "accurately evaluate the health status of individuals and receive cutting-edge medical care such as … remote robotic surgery".
N-Ark did not give any costs or schedule for the floating city, although it did say that it hopes to have it built by 2030.