In the latest twist of a legal battle begun in 2014, Kenya's Court of Appeals has found that the $3.2bn contract for the country's new standard gauge railway (SGR) between Mombasa and Nairobi was illegal.
It was awarded to the China Road and Bridge Corporation (CRBC) by Kenya Railways following the signing of a memorandum of understanding in 2011. In 2014, a case was brought by Kenyan activist Okiya Omtatah and the Law Society of Kenya in a bid to stop construction on the grounds that CRBC had won a public project without going through a public competition.
The case was dismissed by the High Court that same year, but earlier this month the appellate judges ruled that the SGR procurement process breached Article 227 of the Kenyan Constitution, as it was not open to a public tender, and so was not "fair, equitable, transparent, competitive and cost-effective".
The court also found that the contract contravened Kenya's 2005 Public Procurement and Disposal, a law intended to guarantee open tendering by public-operated enterprises.
About 90% of the cost of the project was met by the Exim Bank of China, in the form of two $1.6bn loans.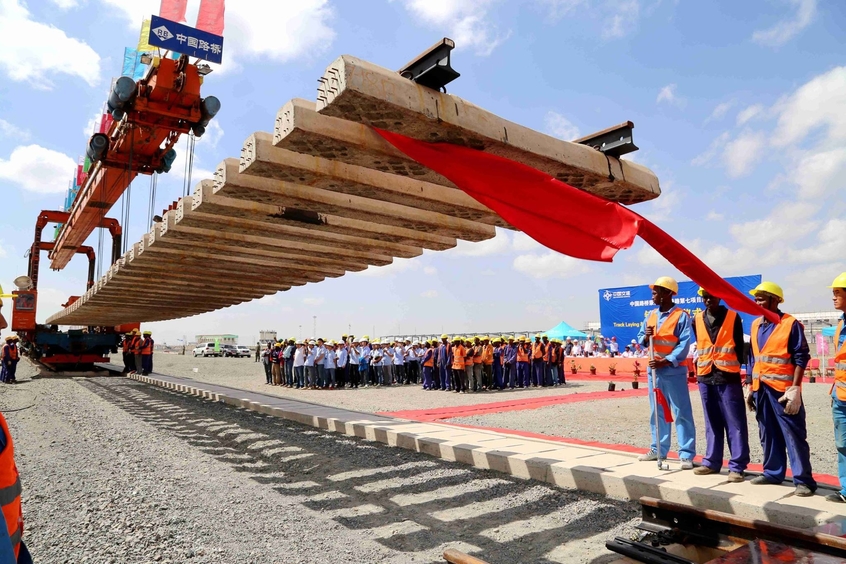 Standard gauge tracking laying in Kenya (CCCC via Facebook)
According to Business Daily Africa, Exim made the loans conditional on the appointment of a Chinese contractor to build and operate the line, meaning it could not go to a public tender.
The first 485km long section of the SGR was opened to the public in 2017. A second phase is presently being built between Nairobi and Malaba on the Ugandan boarder. This is due to be completed in 2021.
The first part of the second phase, a 190km link between Nairobi to Naivasha, was finished in October 2019. The extension to Malaba will now take the form of an upgrading of an existing metre-gauge line. This will not be carried out by a Chinese contractor.
It is unclear how the ruling will affect the railway.
After the ruling, Nelson Havi, president of the Kenya Law Society, tweeted: "Something doesn't add up in Court of Appeal's decision declaring completed SGR project unconstitutional and unlawful. It may be a preparatory process for [the Government of Kenya] to plead illegality at an international arbitration should China Road and Bridge Corporation sue for breach of contract."
Top image: Workers celebrate the completion of the Ngnong Tunnel on the second phase of Kenya's Standard Gauge Railway between Nairobi and Naivasha (China Communications Construction Company SGR Head Office/Facebook)
Further Reading: