Chinese developer LongRunn, which specialises in big tourist attractions, has signed a deal to build a 76,000-sq-m resort on an artificial island near the South Korean city of Incheon.
Under the deal, signed in Singapore on Sunday, LongRunn agreed to purchase a parcel of land on Yeongjong Island for $80m and to use it for a $4.5bn development to be called "Diamond City".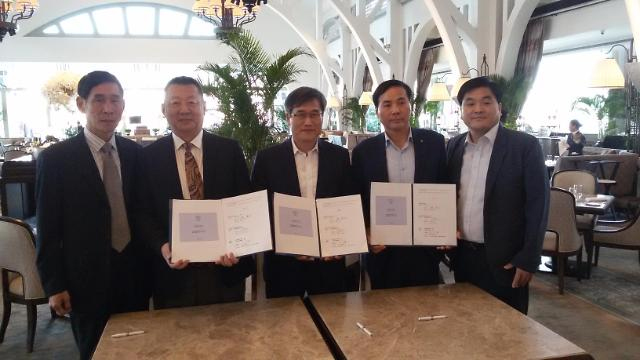 The agreement between LongRunn and the Incheon authorities was signed in Singapore on Sunday (IFEZ)
The island was built for Incheon International Airport. It is connected to the mainland by the Incheon Bridge.
The head of the Incheon Free Economic Zone, Kim Jin-yong, said the contract would help Yeongjong Island compete with Las Vegas and Macau.
LongRunn says the development will have a seven-star hotel, a casino, office towers, malls, schools and a medical centre specialising in cosmetic surgery.
There will also be an "interactive world cultural avenue", a K-pop hub and theme parks.
The company has been in talks with the Korean government over the development since 2014.
When built, it will be neighbour to Paradise City, a casino and hotel complex that partially opened in April last year.
There may be a slight note of suspense in the deal, however, after Paradise City's operator revealed a €10m loss and said its revenue from all its casinos had declined 9% in 2017.
Top image: LongRunn's rendering of the future resort
Further reading: