A new local contractor has been picked to build the last phase of a vast Canadian medical complex in Montréal that has cost its developer, UK contractor Laing O'Rourke, millions of pounds in losses.
Canadian builder Pomerleau will replace Construction Santé Montréal on the remaining CAN$400m stage of the CAN$3.6bn Centre hospitalier de l'Université de Montréal (CHUM) project.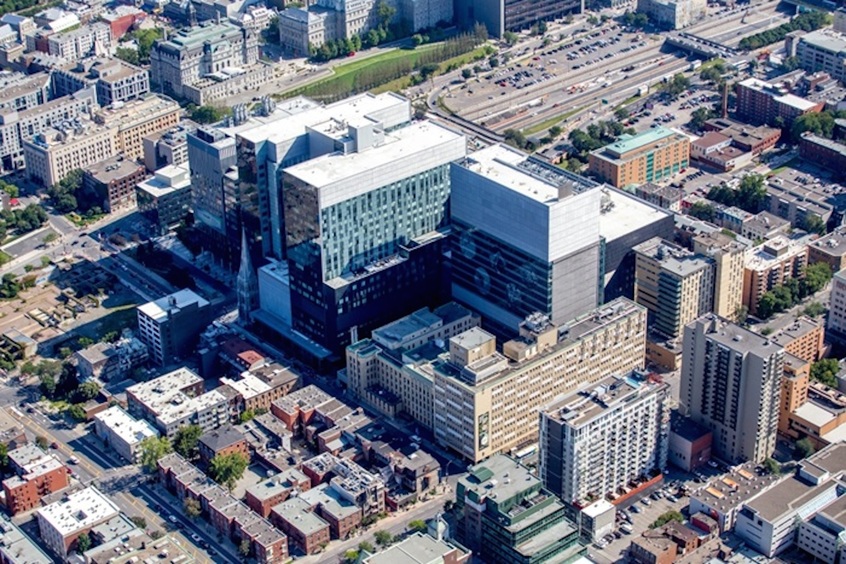 Stage 1 of the super hospital was handed over during 2017 (Laing O'Rourke)
Laing O'Rourke is delivering the project as a public-private partnership (PPP) in a joint venture with Spain's Obrascon Huarte Lain (OHL).
The first phase of the 349,000-sq-m complex opened in September last year, but penalties linked to delays meant Laing O'Rourke had to make a £93m writedown in its last accounts. The first phase was due for completion in 2016.
"We have regularly reported that the project has resulted in significant financial losses for the Laing O'Rourke Group, and minimising further risk on Phase 2 has been a priority," said Ray O'Rourke, the company's group chief executive, on 22 December.
Pomerleau had already been working on dismantling the old St-Luc Hospital site on which Phase 2 sits; demolition is scheduled to take approximately a year, O'Rourke said.
This next phase consists of outpatient services, clinical and administrative offices, as well as an amphitheatre and parking lots.
The consortium has been working on CHUM since 2011, when it reached financial close on the PPP. With OHL, Laing O'Rourke is responsible for design, construction and financing, and the contract includes a 30-year maintenance concession.
The new 772-room, 21-storey hospital is intended to consolidate the activities of the CHUM in one location.
Ray O'Rourke said: "We will be maintaining a Laing O'Rourke team in Montreal, as part of CSM, ensuring that Phase 1 continues to run smoothly through the handover period and monitoring Pomerleau's progress on the Phase 2 programme through to completion of the contract."
He added: "Successful execution of this transaction will now allow us to finalise our FY17 year-end accounts (31st March 2017), which we expect to file at Companies House at the end of January 2018."